We are in the planning stage for the next Radio Camp. Please stay in touch with us for future updates. This page content was for our last camp session, held in August of 2015.
The Radio Camp session for 2015 is Tuesday, August 18 (arrival) through Monday, August 24 (departure).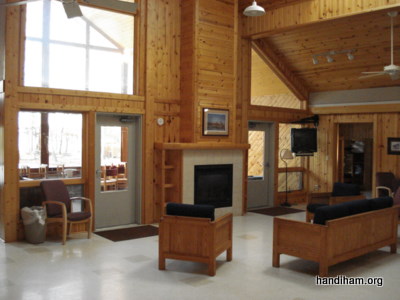 New cabins provide excellent space for our 2015 Handiham Radio Camp.
---
Radio Camp News:  We will once again be at the modern Woodland campus, Camp Courage.  We have replaced the rotator on the tower at camp and plan to work DX with the triband HF beam antenna.  Radios you can try at camp include the remote base stations running the Kenwood TS-480's, Kenwood TS-590S, and TS-2000.  If you have a special request for gear you would like to check out at camp, please let us know.  Camp dates are Tuesday, August 18 (arrival) through Monday, August 24 (departure),  We think this will allow campers who travel by air to get cheaper tickets. 
Enjoy a week of Ham radio fun and learning. Make new friends while building an on-air community that continues after you leave Radio Camp. Get a first Ham radio license or learn new operating skills. Keep abreast of the latest technology, including assistive technology. Wireless internet access is available. Instructors are experienced amateur radio operators from throughout the nation. Trained staff members provide personal care assistance. And, we leave plenty of time to take a break from studying and enjoy traditional camp activities.
2
015 Camp at Camp Courage Woodland Campus:
Operating Skills participants will have a chance to try out the Kenwood TS-590S radios.  We will have two of them set up!

The Camp Courage two meter repeater W0EQO-R will be on the air, and connected to the *HANDIHAM* Echolink conference.

The Equipment Program will be at Radio Camp.  Campers will be able to take home equipment, provided that the Equipment Program has it available.  Campers should let us know what they need to get on the air. Categories of equipment that can be made available for you to take home from camp are:

VHF/UHF radios

HF radios

Accessories like speakers and tuners

Morse code accessories

Other accessories - Please let me know what you need.

Our study guide for 2015 Handiham Radio Camp Operating Skills will be the ARRL Public Service Handbook First Edition.  It is available from your favorite ham radio dealer or directly from ARRL.  Blind Handiham members should contact us for the DAISY version.  We will be happy to place it on your NLS DAISY cartridge for you. 

We will be operating HF and VHF from the camp pontoon boat on Cedar Lake. Last camp we worked DX on 20 meters.  Can we do that again this year?

The outdoor shelter with picnic tables will be available for outside operations every day during net time 11:00 AM CDT and between 1:00 and 3:00 PM CDT.
Please contact Nancy for an application package.
612-775-2291 or by email to:
Contact us by email to ask a question:
Nancy.Meydell@allina.com