Courage Kenny Rehabilitation Institute Handiham World Weekly E-Letter for the week of Wednesday, 21 October 2015
This is a free weekly news & information update from the Courage Kenny Handiham Program, serving people with disabilities in Amateur Radio since 1967. 
Our contact information is at the end.
Listen here:
https://handiham.org/audio/handiham21OCT2015.mp3
RSS feed for the audio podcast if you use other podcasting software:
http://feeds.feedBurner.com/handiham
Subscribe or change your subscription to the E-mail version here.
---
Welcome to Handiham World.
In this edition: 
The joy of a simple station.

CQ WWDX SSB this weekend.

Request feedback - W0ZSW and W0EQO back on the air via Remotehams. We have some "Gotchas".

Check into our nets!

Dip in the Pool returns with a question about logic from the Extra Class pool.

...And more!
---
The joy of a simple station:
It may sound strange to start this discussion with a story about my first motorcycle, but hang in there and I'll make sense of it.
College days are not usually the times in our lives when we have buckets of spare cash.  Between tuition and textbooks, fees for one thing and another, living costs and the occasional splurge on buying lunch, there just isn't much left to spend.  It was early on in my freshman year that I acquired cheap transportation:  a Honda 90, a small 90 cc motorcycle that sipped gas and cost almost nothing to insure.  It got the job done, though.  I could get around town and to classes, and even take a short road trip once in a while as long as going really fast wasn't absolutely necessary.  I actually enjoyed motorcycling and traded up and up and up over the years to large, more expensive and more capable bikes.  Of course that had to wait until I was out of college and had a job, then a better job, then some savings, and... Well, you get the idea.  The Honda 90 may have been small and cheap, but it did the job.  Bigger, more powerful and more comfortable bikes were nice, of course, but the essence of riding was still there with that first tiny Honda.
Not surprisingly, ham radio is much the same as riding when it comes to the essence of the experience.  There is no more exciting time than that when you make your first on the air contact with your first station, putting your callsign out there for the time.  However humble your station may be, it does the job - getting you on the air, making contacts and having fun.
Although I no longer ride, I do observe who is riding and what kinds of bikes are out there.  It's pretty clear that the older riders - many retirement age - can afford to spend plenty on elaborate motorcycles with plenty of accessories.  The small Japanese bikes are usually piloted by young folks, probably students on a budget, or simply those who like a lighter, less ponderous ride.  I'll tell you what:  The essence of riding is not in all the accessories and glitz, it's being on the bike, moving through time and space in a way that's just different from sitting in a car.  The same is true of Amateur Radio - it's getting on the air that thrills, not having the most elaborate station with the biggest antenna farm.  Newbies starting out with modest stations, perhaps a used HF rig and a homemade wire antenna strung up between the corner of the house and that tree in the back yard...  Well, what can I say?  Many of us, including myself, started our ham radio journeys that way.  And many of us have built bigger, more elaborate stations over the years as we were able to afford our own homes with antenna real estate, or perhaps even vacation homes with even more station possibilities.  There may be more money in the budget for ham radio, too.  Multiple stations are not all that uncommon for many of us, and in some ways we are like those older motorcycle enthusiasts who can finally afford the big, tricked-out bikes. 
Now, I'm a realist.  I know that nostalgia is a thing, and we tend to remember all the best stuff about the good old days and forget all the bad stuff.  It was exciting and fun to learn about radio, and in the pre-internet days of the late 1960's, what we consider primitive technology was pretty doggoned cool.  It was fun to be a kid getting into a technical hobby back then, and even though the equipment we could afford was really pretty sketchy, the thrill of getting on the air made up for all of the drifting receivers and chirpy transmitters. 
You know what?  I hope all of our readers and listeners still feel that same way about radio.  The essence is getting on the air and having fun.  Maybe it's building antennas or circuits, or coding some software.  None of it need be expensive.  Be creative - do radio the way you like to! 
Related:  100 Watts and a Wire podcast and Facebook page - Christian, K0STH emphasizes ham radio fun with basic, simple stations and antennas. 
Email me at Patrick.Tice@allina.com with your questions & comments.   
Patrick Tice
Handiham Program 
(For Handiham World, this is Pat Tice, WA0TDA.)
---
CQ Worldwide DX Contest:
Time does fly, doesn't it?  It's already late October, and that means it's time for the CQ Worldwide DX contest.  If you are looking to add some DX callsigns to your log, this is a great time to get a pot of coffee going and fire up the radio. This coming weekend you'll find the bands hopping as the SSB contest gets underway. 
What:  The 2015 CQ World-Wide DX Contest
When:  SSB: October 24-25
How:  Check out the dates, times, and rules for the CQ WWDX contests here.
Like CW?  Then the CW CQ WWDX contest weekend is for you!  You'll get a whole month to recover from the SSB contest and brush up on your code skills.
CW: November 28-29
Resource:  Looking to get started in DX?
Jim, KJ3P, has recorded the DXer's Handbook Second Edition by Bryce, K7UA, for our blind members.  If you are a Handiham member you may enjoy the DAISY download, which will play on your DAISY player.
---
October 21 Remote Base HF Update:  W0ZSW and W0EQO both on line with Remotehams.com RCForb software.  We need your feedback as we identify issues to post on the Remotehams discussion boards.  This week we have some "gotchas" to report!



Image:  The Kenwood TS-480HX station.  
W0ZSW and W0EQO are both on the air today as our testing continues.  With both TS-480 stations operational in our testing phase, we need your feedback on what does and doesn't work.  This will help us make up our list of issues to post on the Remotehams discussion boards. 
Testing uncovers some "gotchas" - surprise problems that are completely unexpected!
As we have been getting more users on the remote radios, a few problems that we hadn't thought of have emerged.  It turns out that when people use the remote interface, they don't always know what they are doing.  Ha, I'm still learning about that, too, so it's kind of funny that I continue to be surprised by what kinds of things can get messed up by fiddling with the controls.  I've been running my own station, the "100W WA0TDA IC-7200 Twin Cities MN" radio that is listed in the Remotehams station list.  It's expected that things will get fiddled with - so it's a good way for me to learn how to make the station both easier to use and harder to break. 
One thing we have learned is that the controls visible to the remote users on the software can be limited.  When we first set up the host software, we didn't know that, so users have adjusted controls that we didn't want touched.  Several of them get folks into trouble:
The audio gain slider on the radio interface adjusts the volume coming out of the radio's speaker on my IC-7200, not the audio going out to the internet.  What happens is that a computer user tries to turn up the volume but instead of using the volume slider at the top of the RCForb application to adjust the computer volume, they crank up the volume of the actual radio speaker sitting next to me in my ham shack and blow me away with the racket. 

Last week I tried using the remote to check into a net, but got a report of a very weak signal.  After checking the radio's controls, I found that the power level had been turned down to only a few watts, and the compression had been turned off.  That made the radio almost useless for a 75 meter net!

Although some radios have a built in antenna switch, the IC-7200 doesn't.  Both TS-480 radios do, though.  We have to be careful to use the stations only on an active antenna, so a user who doesn't take care to manage the antennas correctly could potentially choose an antenna port that is not connected and try transmitting without an antenna.  At this time W0ZSW has a double extended zepp on antenna one and a dummy load on antenna two.  W0EQO is set up to go to the same antenna no matter which one is chosen.

This morning W0ZSW wasn't working right, and no wonder - someone had turned the attenuator on and left it that way.  At other times the radios have been left in VFO "split" mode, a recipe for disaster when the next person logs on.  We frequently had this same problem with the old software.
The solution is in the hosting software:  We have discovered that we can limit the controls that are visible to users.  Thus, it is possible to get rid of controls that can get inexperienced users into trouble.  This has the added benefit of simplifying the interface, making the radio easier to navigate.  A simpler interface is not a complete answer, of course.  It may, for example, limit DX operation on a split frequency.  We know that, and will make adjustments accordingly.  Perhaps we will have stations open to "expert users", who will have more access because of their experience.  This is going to be a real learning experience for all of us, that's for sure!
Transmit access:  You can use the Remotehams.com website to your advantage by uploading a copy of your Amateur Radio license so that station owners can check it if you request transmit privileges on their stations.  The neat thing about this procedure is that once you upload your license, the job is done and you don't have to do it over and over for every new station you want to use.
Tech support:  The Remotehams.com website includes a robust user discussion area divided into topics.  There is also on line documentation.  One thing that can be frustrating about trying something new, such as remote HF operation, is that there is a lot to learn about and new users might be impatient about reading the forum posts and documentation.   This is pretty much true when we talk about VoIP enhanced systems like Echolink as well.  But hang in there and do some reading, then don't be afraid to try out the software, learning by trial and error. "Learning by doing" is a time-tested, proven way to learn and retain knowledge.  Here are some useful links:
---
What are you waiting for? Check into our Handiham nets... Everyone is welcome! 
How to find the Handiham Net: 
The Handiham EchoLink conference is 494492.  Connect via your iPhone, Android phone, PC, or on a connected simplex node or repeater system in your area.

WIRES-2 system number 1427

WIRES-X digital number 11165

IRLP 9008 
The Handiham Net will be on the air daily. If there is no net control station on any scheduled net day, we will have a roundtable on the air get-together.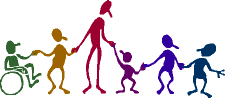 Our daily Echolink net continues to operate for anyone and everyone who wishes to participate at 11:00 hours CDT (Noon Eastern and 09:00 Pacific), as well as Wednesday evenings at 19:00 hours CDT (7 PM).  If you calculate GMT, the time difference is that GMT is five hours ahead of Minnesota time during the summer.  Note that we do not have a Thursday evening session at this time.
Doug, N6NFF, poses a trivia question in the first half of the Wednesday evening session, so check in early if you want to take a guess.   The answer to the trivia question is generally given shortly after the half-hour mark.  A big THANK YOU to all of our net control stations and to our Handiham Club Net Manager, Michael, VE7KI.
---
A dip in the pool
Dip in the pool is back!  Our question this week is from the Extra Class question pool, number E7A11.  It asks:
"What is the name for logic which represents a logic "1" as a high voltage?"

Possible answers are:
A. Reverse Logic
B. Assertive Logic
C. Negative logic
D. Positive Logic
While you're thinking about which answer might be the right one, let's recall that when we are talking about "logic", we are really talking about switches that are turned on or off, which in these kinds of questions really refers to a logic state of a "1" or a "0".  Digital circuits may be able to perform extremely complex tasks for us, but boiled down to their most basic components, they really consist of switches - millions of them perhaps, but still just switches. 
Did you decide which answer is the correct one?  If you picked answer D, Positive Logic, you got this one right.  In this case we see that the high voltage state of a switch is represented as a "1", while a low voltage is a "0".  This is your choice in digital: either a 1 or a 0.  That's it!  Get enough of these logic states together on a chip, and the combinations they form can do complex tasks for us. 
By the way, in case you get a similar question, E7A12, which asks "What is the name for logic which represents a logic "0" as a high voltage?", you will of course choose answer C, Negative logic, from the same four choices:

A. Reverse Logic
B. Assertive Logic
C. Negative logic
D. Positive Logic
Happy studying! 
---
New audio: There is the October CQ Magazine in DAISY audio this week, which should be available soon.  NLS cartridges for October are in the mail.  October QST has been published by ARRL and is available to ARRL members as the online digital magazine and in print.  Bob Zeida, N1BLF, has recorded the Handiham digest version for our blind members, and it is available as a compressed DAISY file for you to download and play on your NLS or other DAISY book player.  Find it in the Handiham members section.
Other audio posted earlier:
The Doctor is In column from October QST has been recorded for our blind members by Ken Padgitt, W9MJY, and is available in the members section.
QST for September in digital has been recorded by Bob, N1BLF, and is ready.  We have it in DAISY for our blind members.
ARRL General Class License Manual:

Jim Perry, KJ3P, has finished the first three chapters of the new ARRL General Class License manual, recorded for our blind members.  The audio is processed into DAISY for our General students.
Podcast:  If you would like to receive this audio newsletter as a podcast in software other than iTunes, the RSS feed for the audio podcast is:
http://feeds.feedBurner.com/handiham
Email version: Subscribe or change your subscription to the E-mail version here.
Weekly audio reminder: If you are a Handiham member and want a weekly reminder about our new audio, let us know.  Watch for new audio Thursday afternoons.  (Some audio is available only to members.)
Beginner course DAISY download available for our blind members:  We now have the DAISY version of the entire Technician Class lecture series on line for download. 
Some of you have asked about the 2015 General Lecture Series.  The new General pool is used for exams beginning on July 1, 2015.  If you are planning to study for General at Radio Camp in August, you will take your exam based on the new General question pool.  Jim, KJ3P, is helping us with recordings from the new 2015 ARRL General License Manual. 
But you can start studying using the new pool right now! Bob Zeida, N1BLF, has finished the recording of the new 2015 General Class Question Pool and it is in the General Class section in the Members part of the website. 
Thanks to our volunteer readers:
Bob, N1BLF 
Jim, KJ3P
Ken, W9MJY 
---
Membership
You can pay your Handiham dues and certain other program fees on line. Simply follow the link to our secure payment site, then enter your information and submit the payment.  It's easy and secure!
How to contact us
There are several ways to contact us.
Postal Mail:
Courage Kenny Handiham Program
3915 Golden Valley Road
Golden Valley, MN 55422

E-Mail: Nancy.Meydell@allina.com

Preferred telephone: 1-612-775-2291
Toll-Free telephone: 1-866-HANDIHAM (1-866-426-3442)

Note: Mondays through Thursdays between 9:00 AM and 2:00 PM United States Central Time are the best times to contact us.

You may also call Handiham Program Coordinator Patrick Tice, WA0TDA, at: 612-775-2290.

FAX: 612-262-6718 Be sure to put "Handihams" in the FAX address! We look forward to hearing from you soon.
73, and I hope to hear you on the air soon! 
For Handiham World, this is Pat Tice, WA0TDA. 

ARRL is the premier organization supporting Amateur Radio worldwide. Please contact Handihams for help joining the ARRL. We will be happy to help you fill out the paperwork!

The weekly e-letter is a compilation of software tips, operating information, and Handiham news. It is published on Wednesdays, and is available to everyone free of charge. Please email Patrick.Tice@allina.com  for changes of address, unsubscribes, etc. Include your old email address and your new address.