Courage Kenny Rehabilitation Institute Handiham World Weekly E-Letter for the week of Wednesday, 28 October 2015
This is a free weekly news & information update from the Courage Kenny Handiham Program, serving people with disabilities in Amateur Radio since 1967. 
Our contact information is at the end.
Listen here:
https://handiham.org/audio/handiham28OCT2015.mp3
RSS feed for the audio podcast if you use other podcasting software:
http://feeds.feedBurner.com/handiham
Subscribe or change your subscription to the E-mail version here.
---
Welcome to Handiham World.
In this edition: 
A special event for you this weekend - W0JH will be on the air!

Operating tips

This week's remote HF report: W0ZSW and W0EQO back on the air via Remotehams.

Check into our nets!

Dip in the Pool returns with a question about waveforms from the Extra Class pool.

...And more!
---
Weekend Special Event! W0JH at Split Rock Lighthouse:
W0JH Special Event "Remembering the Edmund Fitzgerald"
Split Rock Lighthouse, Minnesota
October 31 & November 1, 2015
The Handiham-affiliated Stillwater Amateur Radio Association (SARA) will be operating to commemorate the sinking of the Edmund Fitzgerald. Using the club's call sign, W0JH, 20 SARA members will operate from Split Rock Lighthouse State Park (ARLHS USA 783) in Lake County, MN. This year marks the 40th anniversary of the ship's mysterious sinking.
W0JH Operating Schedule
(Special Events listing on ARRL web site & Nov. QST, page 99)
Saturday, Oct. 31 & Sunday, Nov. 1
:: 10:00 am – 6:00 pm (Central Time)
:: 3.860, 7.260, 14.260, 21.360, 28.360 MHz (+/- QRM)
Midwest/local stations should look for us on the 75m and 40m bands in the early morning and late afternoon.
---
"This is the eleventh consecutive year we've participated in this special event from the shores of Gitche Gumee (Lake Superior)," according to SARA special events chair, Dave Glas (WØOXB). "For our operators and more than a thousand hams around the world, it's been a very popular event that pays tribute to all hands lost on the famous iron ore carrier. Special TNX to the Radio City and Courage Kenny Handiham organizations for supporting our event!"
Join us in Remembering the Edmund Fitzgerald and her crew by making contact with WØJH!
Don't forget to request an electronic QSL certificate.
Send request to: SplitRock2015@radioham.org
Be sure to include all standard QSL info:
Callsign, Date, Time (UTC), Band/Frequency, Mode and Report (RST).
QSL requests will only be fulfilled via e-mail (PDF).
Visit SARA web site: www.radioham.org.
Amateur Radio supplier Radio City, Inc. is sponsoring this SARA event along with the Courage Kenny Handiham Program. The major radio equipment used (HF transceivers, antenna tuners, power supplies, etc.) is provided gratis. Radio City is promoting the event at their Mounds View, MN store and on their web site: www.radioinc.com.
Email me at Patrick.Tice@allina.com with your questions & comments.   
Patrick Tice
Handiham Program 
(For Handiham World, this is Pat Tice, WA0TDA.)
---
Practical operating tips:
You might be wondering how to contact a special event station.  You're not alone - Many new hams have yet to make this kind of an HF contact.  It's not unusual to start out in ham radio with a Technician ticket and then do much of one's operating on VHF and UHF repeaters for a while.  Then that wonderful day comes when you pass your General exam and start thinking about getting on HF.  Sure, some of you probably did jump in and begin making contacts on 10 meter SSB with that Tech license, but most of the HF spectrum on the other bands was still off limits.  Now, with that General license, there are plenty of new opportunities to explore bands with completely different propagation characteristics, bands populated by completely different modes and types of operation.  Nets, informal groups, stations trying to collect states for WAS, and - yes - even "special event" stations.  HF can be a little daunting as you explore this new world for the first time, especially if you have not done a lot of short-wave listening and are used to repeater operation.
Here are some things to remember:
The HF bands go through cycles of usefulness - not exactly a technical term, but it's the way these bands are.  They change throughout the day, when solar WX acts up, through the 11 year solar cycle, and as the seasons change.  There is as much art as science involved in knowing how to pick the right band to use for any given HF contact because so many variables are in play.  You can learn about HF propagation by doing some listening, tuning around the various bands, and observing what kind of signals you are hearing as well as when you are hearing them.  Propagation forecasts are available from a variety of sources, and can be helpful.  Like other tools, it takes a while to learn how to use them.  Mastering HF is a process, and it will take you some time and patience.  There is no "cookbook" method; you just have to learn by doing. 

Special event stations are on the air almost every weekend.  Some of the events commemorated are surprising - almost anything can be the seed of a commemorative event.  In the case of this coming weekend's W0JH Handiham/SARA event, we remember the sinking of the iron ore freighter Edmund Fitzgerald in the stormy waters of Lake Superior 40 years ago. An appropriate location - an actual Lake Superior lighthouse - adds the benefit of a "lighthouse on the air", something many operators collect as an operating goal.  As such, a special event station is a good contact for you newbies.  There are plenty of them and the requirements for completing the contacts are easy to master just by listening a while on the special event's frequency to see how it's done.

Listen for the station's call for contacts.  Frequencies are often listed on websites or QST.  Remember that frequencies are approximate, so tune around.

Listen for the contact format.  Usually all you need to give is your callsign, location (state or province, section, etc.), and a signal report.  Easy!  As a courtesy first names are usually traded, too.

Make the call:  Just throw your own callsign out, using standard phonetics.  Then listen.  It will often take several tries - maybe a lot of them.  It is partly about luck and partly timing. 

Once you hear the special event station calling you, listen for the information and be ready with your own information.

Acknowledge the call and give your information.

The special event station will acknowledge your information, thank you, and move on to the next contact.

You are done.  You have worked the special event station, and may qualify for a special QSL card or certificate, so log your contact and follow the directions on the special event's website to claim the contact and request the certificate.
I have come across special events and have often worked them just for fun.  It doesn't take a lot of time or commitment, and it helps keep your operating skills sharp.  Give it a try this weekend as you work the W0JH special event station on one or more HF bands!
---
October 28 Remote Base HF Update:  W0ZSW and W0EQO are both converted to Remotehams.com RCForb software.  We need your feedback as we identify issues to post on the Remotehams discussion boards.  This week we have some feedback to share.


Image:  The Kenwood TS-480HX station.  
W0ZSW and W0EQO are both projected to be on the air today as our testing continues.  With both TS-480 stations operational in our testing phase, we need your feedback on what does and doesn't work.  This will help us make up our list of issues to post on the Remotehams discussion boards.  W0EQO has lost internet connectivity and will be back on the air later this evening. (We hope!)
We get a surprising tip for changing modes, thanks to N3AIN:
Joe, N3AIN, took on the issue of the keyboard command for mode changing, which is CTRL+M. What happens is that instead of being able to go through all of the modes in a circular menu, you use this command and get "stuck" on one near the bottom of the list, such as FM or RTTY.  Joe tells us that using the CTRL+M command three times in succession can restore the mode menu, giving you access to modes like LSB and USB.  This workaround did perform as Joe suggested when I tried it, but we still consider this a bug that needs to be addressed eventually.  Thanks, Joe!
Transmit access:  You can use the Remotehams.com website to your advantage by uploading a copy of your Amateur Radio license so that station owners can check it if you request transmit privileges on their stations.  The neat thing about this procedure is that once you upload your license, the job is done and you don't have to do it over and over for every new station you want to use.
Tech support:  The Remotehams.com website includes a robust user discussion area divided into topics.  There is also on line documentation.  One thing that can be frustrating about trying something new, such as remote HF operation, is that there is a lot to learn about and new users might be impatient about reading the forum posts and documentation.   This is pretty much true when we talk about VoIP enhanced systems like Echolink as well.  But hang in there and do some reading, then don't be afraid to try out the software, learning by trial and error. "Learning by doing" is a time-tested, proven way to learn and retain knowledge.  Here are some useful links:
---
What are you waiting for? Check into our Handiham nets... Everyone is welcome! 
How to find the Handiham Net: 
The Handiham EchoLink conference is 494492.  Connect via your iPhone, Android phone, PC, or on a connected simplex node or repeater system in your area.

WIRES-2 system number 1427

WIRES-X digital number 11165

IRLP 9008 
The Handiham Net will be on the air daily. If there is no net control station on any scheduled net day, we will have a roundtable on the air get-together.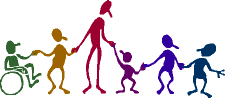 Our daily Echolink net continues to operate for anyone and everyone who wishes to participate at 11:00 hours CDT (Noon Eastern and 09:00 Pacific), as well as Wednesday evenings at 19:00 hours CDT (7 PM).  If you calculate GMT, the time difference is that GMT is five hours ahead of Minnesota time during the summer.  Note that we do not have a Thursday evening session at this time, that session has been moved to Sunday evenings at 8:00 PM Central Time. 
We change to Central Standard Time on this coming weekend on November 1.  All net times remain true to Central Time, but GMT is six hours ahead of us. 
Doug, N6NFF, poses a trivia question in the first half of the Wednesday evening session, so check in early if you want to take a guess.   The answer to the trivia question is generally given shortly after the half-hour mark.  A big THANK YOU to all of our net control stations and to our Handiham Club Net Manager, Michael, VE7KI.
---
A dip in the pool
Dip in the pool is back!  Our question this week is from the Extra Class question pool, number E8A01.  It asks:
"What type of wave is made up of a sine wave plus all of its odd harmonics?"

Possible answers are:
A. A square wave
B. A sine wave
C. A cosine wave
D. A tangent wave
While you're thinking about which answer might be the right one, let's recall that sine waves are pure-sounding single-frequency tones when we hear them in the audio spectrum.  They show up on an oscilloscope as the classic sine wave, a smooth curve from a baseline up to a peak, then a similar smooth slope down, falling to a low point below the baseline, then turning back up in a smooth curve to the baseline, where another cycle begins.  A sine wave looks like a wave made in a calm pool when a rock is dropped straight down into the water and waves ripple out in all directions.
Did you decide which answer is the correct one?  If you picked answer A, A square wave, you got this one right.  In this case we are taking more than one single frequency into account.  We are adding all of the odd-numbered harmonics of the fundamental frequency to our wave, significantly altering its form.  Viewed on a scope, the wave now has sharp vertical rises and falls instead of that gentle slope. And we sure have no problem hearing the difference in an audio square wave as compared to a pure sine wave, either.  The sine wave has a sharp, shrill, grating quality that makes it hard to listen to for very long.
Happy studying! 
---
New audio: There is the October CQ Magazine in DAISY audio this week.  CQ for November was out in time for us to begin working on it. NLS cartridges for November will be mailed next week or shortly into the next week, depending on production. November QST has been published by ARRL and is available to ARRL members as the online digital magazine and in print.  Bob Zeida, N1BLF, has recorded the Handiham digest version for our blind members, and it will be available later this week as a compressed DAISY file for you to download and play on your NLS or other DAISY book player.  Find it in the Handiham members section.
Other audio posted earlier:
The Doctor is In column from November QST has been recorded for our blind members by Ken Padgitt, W9MJY, and will be available in the members section this week.
QST digests for September and October in digital has been recorded by Bob, N1BLF.  We have these in DAISY for our blind members.
ARRL General Class License Manual:

Jim Perry, KJ3P, has finished the first three chapters of the new ARRL General Class License manual, recorded for our blind members.  The audio is processed into DAISY for our General students.
Podcast:  If you would like to receive this audio newsletter as a podcast in software other than iTunes, the RSS feed for the audio podcast is:
http://feeds.feedBurner.com/handiham
Email version: Subscribe or change your subscription to the E-mail version here.
Weekly audio reminder: If you are a Handiham member and want a weekly reminder about our new audio, let us know.  Watch for new audio Thursday afternoons.  (Some audio is available only to members.)
Beginner course DAISY download available for our blind members:  We now have the DAISY version of the entire Technician Class lecture series on line for download. 
Some of you have asked about the 2015 General Lecture Series.  The new General pool is used for exams beginning on July 1, 2015.  If you are planning to study for General at Radio Camp in August, you will take your exam based on the new General question pool.  Jim, KJ3P, is helping us with recordings from the new 2015 ARRL General License Manual. 
But you can start studying using the new pool right now! Bob Zeida, N1BLF, has finished the recording of the new 2015 General Class Question Pool and it is in the General Class section in the Members part of the website. 
Thanks to our volunteer readers:
Bob, N1BLF 
Jim, KJ3P
Ken, W9MJY 
---
Membership
You can pay your Handiham dues and certain other program fees on line. Simply follow the link to our secure payment site, then enter your information and submit the payment.  It's easy and secure!
How to contact us
There are several ways to contact us.
Postal Mail:
Courage Kenny Handiham Program
3915 Golden Valley Road
Golden Valley, MN 55422

E-Mail: Nancy.Meydell@allina.com

Preferred telephone: 1-612-775-2291
Toll-Free telephone: 1-866-HANDIHAM (1-866-426-3442)

Note: Mondays through Thursdays between 9:00 AM and 2:00 PM United States Central Time are the best times to contact us.

You may also call Handiham Program Coordinator Patrick Tice, WA0TDA, at: 612-775-2290.

FAX: 612-262-6718 Be sure to put "Handihams" in the FAX address! We look forward to hearing from you soon.
73, and I hope to hear you on the air soon! 
For Handiham World, this is Pat Tice, WA0TDA. 

ARRL is the premier organization supporting Amateur Radio worldwide. Please contact Handihams for help joining the ARRL. We will be happy to help you fill out the paperwork!

The weekly e-letter is a compilation of software tips, operating information, and Handiham news. It is published on Wednesdays, and is available to everyone free of charge. Please email Patrick.Tice@allina.com  for changes of address, unsubscribes, etc. Include your old email address and your new address.