Courage Kenny Rehabilitation Institute Handiham World Weekly E-Letter for the week of Wednesday, 04 November 2015
This is a free weekly news & information update from the Courage Kenny Handiham Program, serving people with disabilities in Amateur Radio since 1967. 
Our contact information is at the end.
Listen here:
https://handiham.org/audio/handiham04NOV2015.mp3
RSS feed for the audio podcast if you use other podcasting software:
http://feeds.feedBurner.com/handiham
Subscribe or change your subscription to the E-mail version here.
---
Welcome to Handiham World.
In this edition: 
A dip in the Extra Class pool.

This week's remote HF report: W0EQO is ready to move, and we trim trees at W0ZSW.  Will the wire antenna survive?

Check into our nets!

New DAISY download: KB5ELV "Eyes-Free Guide to the Baofeng UV5R".

...And more!
---
A dip in the pool
Dip in the pool is back!  Our question last week was from the Extra Class question pool, number E8A01.  We made a mistake in the text, which should read, "The square wave has a sharp, shrill, grating quality that makes it hard to listen to for very long."   Hopefully this didn't cause too much confusion.  Obviously a sine wave is a pure-sounding tone.
This week we are changing gears and asking a question about our frequency allocations.  It is E1A07, which states:
"What is the only amateur band where transmission on specific channels rather than a range of frequencies is permitted?"
Possible answers are:

A. 12 meter band
B. 17 meter band
C. 30 meter band
D. 60 meter band
While you are trying to picture that frequency chart that was last updated on March 5, 2012, let's remind ourselves that almost all of our frequency bands are pretty much open to our choice of operating frequencies.  Even when using bands like the two meter band, which most of us have more or less agreed to set up as channelized repeater and simplex frequencies across much of the allotted space, we still do have the freedom to slide around using the good old VFO dial.  Fans of weak signal work on that band do so all the time! 
If you chose answer D, the 60 meter band, you got this one right.  It is channelized by allocation, and we must use exact frequencies, so the easiest way to manage this is to set up memory channels in our radios or with our rig control software like Ham Radio Deluxe if we want to work that band. Remember, you must have a General, Advanced, or Extra Class license to transmit on the 60 meter band.  There are some other restrictions, too.  You have to stand aside for other traffic on the band since the Amateur Radio Service is a secondary user.  The power is limited to 100 watts PEP, described as "effective radiated output", which means that you need to consider the antenna system as well as the power level.  This is power relative to that radiated by a half-wave dipole.
As ARRL states on their frequency allocation page, "Radiated power must not exceed the equivalent of 100 W PEP transmitter output power into an antenna with a gain of 0 dBd."
There are additional mode and bandwidth restrictions.  Plus, only one signal at a time is allowed on each of the five 60 meter "channels".  That means one QSO per channel may be going on at any given time. 
With all of these restrictions, it is easy for a person who is unfamiliar with HF operating to make a mistake while using the 60 meter band.  You could forget and transmit on the wrong sideband, for example.  While you might think that lower sideband would be the default for 60 meter operation because it is used by convention on bands like 75 and 40 meters, you would be wrong!  Only USB, or upper sideband, is allowed on 60 meters.  There are bandwidth restrictions, too.  Your signal cannot be too wide when you transmit, or it will fall outside the 2.8-kHz-wide channel allocation.  It is for these reasons that I don't recommend transmitting on 60 meters until you have gained some solid HF experience and know your station equipment very well. 
When you are ready to operate 60 meters, you will find a band that has some characteristics of both the 75 and 40 meter bands.  It can be open to skywave propagation longer into the daylight hours than 75 meters, to longer distance contacts.  It is a good band when the sun goes down, as is the 75 meter band.  It is not plagued by shortwave broadcast interference like the 40 meter band.  While you may have to wait for a channel to clear, you will often be able to find others listening and ready to make a contact.  You can get started on 60 meters by getting the channels set up in your radio's memories.  Then do some listening and you'll be pleasantly surprised by all of the stations you hear.  Try listening at different times of the day and night to learn about 60 meter propagation.
Resources:
Email me at Patrick.Tice@allina.com with your questions & comments.   
Patrick Tice
Handiham Program 
(For Handiham World, this is Pat Tice, WA0TDA.)
---
November 4 Remote Base HF Update:  W0ZSW and W0EQO are both converted to Remotehams.com RCForb software.  We plan to move W0EQO shortly.
Earlier this week we got a query from a remote base user who wasn't able to get into either remote base station.  It turned out that he had not gotten the word about the change from the old W4MQ software to the new Remotehams.com RCForb software.  We know that there will always be trouble getting the news about our stations out there to everyone, since not everyone keeps up with podcasts and email messages.  If you hear questions about the remotes on the air, be sure to answer them if you can.  Remember, all of us appreciate a helping hand when it comes to learning new things. 

Image:  The Kenwood TS-480HX station.  
W0ZSW and W0EQO are both projected to be on the air today as our testing continues.  However, there will be some "down time" today as tree trimming will be taking place at W0ZSW, and some of the trees the 270 foot wire antenna goes through will be affected.  The station will be shut down during this operation, which will be completed by the end of the day, Wednesday, November 4.  If the antenna is damaged, the station will be off the air until repairs are made.  An announcement will be made on https://handiham.org/remotebase if this happens. 
With both TS-480 stations operational in our testing phase, we need your feedback on what does and doesn't work.  This will help us make up our list of issues to post on the Remotehams discussion boards.  W0EQO will soon be moved to its new location at a Boy Scout camp near its former location at Camp Courage North.  Bill, N0CIC, has successfully installed the new 300 foot double extended zepp antenna, fed with 450 ohm low-loss ladder line. It is in an inverted vee configuration with the feedpoint mounted high on a standoff from the already existing tower, installed several years ago at the Scout Camp and documented in a YouTube video.  You can view two videos, one about the tower raising, and another about the ground system being installed.  Both are available through links from the Piconet website.
Transmit access:  You can use the Remotehams.com website to your advantage by uploading a copy of your Amateur Radio license so that station owners can check it if you request transmit privileges on their stations.  The neat thing about this procedure is that once you upload your license, the job is done and you don't have to do it over and over for every new station you want to use. A dialog box will come up in the software if you are connected to a radio and attempt to transmit.  You will be given information about requesting transmit access.  After transmit access is granted, you will be able to transmit. 
A common question is, "How come I requested transmit access to so and so's station, but I have not heard anything."
The answer is that the request must be approved by the station owner from within the host software on the rig control computer at the station. When a request - or requests - come in, the host software does not notify the station owner at all.  As a station owner myself, I just have to remember to check the list of pending requests every so often.  If I forget, the request can sit there for a while.  Also, remember that not every station owner grants transmit access.  Some have special conditions, such as club membership or license class.  One thing I could suggest if you don't hear from a station owner, you might have been granted access to transmit but just don't know it.  I don't usually let people know when I approve requests, and I doubt most other owners do either.  If you try transmitting and it works, that's how you know you have access.  If you know a station owner's email address, you can always drop him or her a line and ask about it, but other than that there is no set way to manage this process. 
60 meter operation:  60 meter transmit is not allowed on our remote base stations, but you can receive on 60 meters. We do this to avoid the possibility of non-compliant operation on 60 meters. 
Tech support:  The Remotehams.com website includes a robust user discussion area divided into topics.  There is also on line documentation.  One thing that can be frustrating about trying something new, such as remote HF operation, is that there is a lot to learn about and new users might be impatient about reading the forum posts and documentation.   This is pretty much true when we talk about VoIP enhanced systems like Echolink as well.  But hang in there and do some reading, then don't be afraid to try out the software, learning by trial and error. "Learning by doing" is a time-tested, proven way to learn and retain knowledge.  Here are some useful links:
---
What are you waiting for? Check into our Handiham nets... Everyone is welcome! 
How to find the Handiham Net: 
The Handiham EchoLink conference is 494492.  Connect via your iPhone, Android phone, PC, or on a connected simplex node or repeater system in your area.

WIRES-2 system number 1427

WIRES-X digital number 11165

IRLP 9008 
The Handiham Net will be on the air daily. If there is no net control station on any scheduled net day, we will have a roundtable on the air get-together.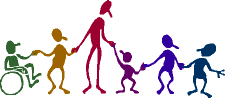 Our daily Echolink net continues to operate for anyone and everyone who wishes to participate at 11:00 hours CST (Noon Eastern and 09:00 Pacific), as well as Wednesday evenings at 19:00 hours CST (7 PM).  If you calculate GMT, the time difference is that GMT is six hours ahead of Minnesota time during the winter.  Note that we do not have a Thursday evening session at this time, that session has been moved to Sunday evenings at 8:00 PM Central Time. 
We changed to Central Standard Time on November 1.  All net times remain true to Central Time, but GMT is six hours ahead of us. 
Doug, N6NFF, poses a trivia question in the first half of the Wednesday evening session, so check in early if you want to take a guess.   The answer to the trivia question is generally given shortly after the half-hour mark.  A big THANK YOU to all of our net control stations and to our Handiham Club Net Manager, Michael, VE7KI.
---
NASA 3D Models
Ken, KB3LLA, alerts us to a new resource from AFB, NASA 3D Models for the Education of Students Who are Blind or Visually Impaired. Check it out on the AFB website.
---
New audio: CQ for November in DAISY audio is available this week for our blind members. NLS cartridges for November have been mailed this week. November QST has been published by ARRL and is available to ARRL members as the online digital magazine and in print.  Bob Zeida, N1BLF, has recorded the Handiham digest version for our blind members, and it is ready as a compressed DAISY file for you to download and play on your NLS or other DAISY book player.  Find it in the Handiham members section.
Other audio posted earlier:
The Doctor is In column from November QST has been recorded for our blind members by Ken Padgitt, W9MJY, and is available in the members section this week.
QST digests for September and October in digital have been recorded by Bob, N1BLF.  We have these in DAISY for our blind members.
ARRL General Class License Manual:

Jim Perry, KJ3P, has finished the first three chapters of the new ARRL General Class License manual, recorded for our blind members.  The audio is processed into DAISY for our General students.
Podcast:  If you would like to receive this audio newsletter as a podcast in software other than iTunes, the RSS feed for the audio podcast is:
http://feeds.feedBurner.com/handiham
Email version: Subscribe or change your subscription to the E-mail version here.
Weekly audio reminder: If you are a Handiham member and want a weekly reminder about our new audio, let us know.  Watch for new audio Thursday afternoons.  (Some audio is available only to members.)
Beginner course DAISY download available for our blind members:  We now have the DAISY version of the entire Technician Class lecture series on line for download. 
Some of you have asked about the 2015 General Lecture Series.  The new General pool is used for exams beginning on July 1, 2015.  If you are planning to study for General at Radio Camp in August, you will take your exam based on the new General question pool.  Jim, KJ3P, is helping us with recordings from the new 2015 ARRL General License Manual. 
But you can start studying using the new pool right now! Bob Zeida, N1BLF, has finished the recording of the new 2015 General Class Question Pool and it is in the General Class section in the Members part of the website. 
Thanks to our volunteer readers:
Bob, N1BLF 
Jim, KJ3P
Ken, W9MJY 
---
Membership
You can pay your Handiham dues and certain other program fees on line. Simply follow the link to our secure payment site, then enter your information and submit the payment.  It's easy and secure!
How to contact us
There are several ways to contact us.
Postal Mail:
Courage Kenny Handiham Program
3915 Golden Valley Road
Golden Valley, MN 55422

E-Mail: Nancy.Meydell@allina.com

Preferred telephone: 1-612-775-2291
Toll-Free telephone: 1-866-HANDIHAM (1-866-426-3442)

Note: Mondays through Thursdays between 9:00 AM and 2:00 PM United States Central Time are the best times to contact us.

You may also call Handiham Program Coordinator Patrick Tice, WA0TDA, at: 612-775-2290.

FAX: 612-262-6718 Be sure to put "Handihams" in the FAX address! We look forward to hearing from you soon.
73, and I hope to hear you on the air soon! 
For Handiham World, this is Pat Tice, WA0TDA. 

ARRL is the premier organization supporting Amateur Radio worldwide. Please contact Handihams for help joining the ARRL. We will be happy to help you fill out the paperwork!

The weekly e-letter is a compilation of software tips, operating information, and Handiham news. It is published on Wednesdays, and is available to everyone free of charge. Please email Patrick.Tice@allina.com  for changes of address, unsubscribes, etc. Include your old email address and your new address.