Courage Kenny Rehabilitation Institute Handiham World Weekly E-Letter for the week of Wednesday, March 28, 2018
This is a free weekly news & information update from the Courage Kenny Handiham Program, serving people with disabilities in Amateur Radio since 1967. 
Our contact information is at the end.
Listen here:
https://handiham.org/audio/handiham28MAR2018.mp3
RSS feed for the audio podcast if you use other podcasting software:
http://feeds.feedBurner.com/handiham
Subscribe or change your subscription to the E-mail version here.
---
Welcome to Handiham World.
In this edition: 
A note from the coordinator

ARRL Proposal Comments

Adaptive Hockey

Interview of the Week

Ham Radio In the News

Win Some Handiham History Loot

Equipment Connection

Check into our nets!

...And more!
---
A note from the coordinator...
Maureen Pranghofer, KF0I, came in for an interview last week. It was such a privilege to get to meet this woman whose name is so prominent in the Handiham archives! Her interview will air next week, so you won't want to miss it. If you live in or are traveling through the Minneapolis metro area, we would love to have you stop by and visit the Handiham Program office!
This week, Nancy and I are in the office per our usual schedules. Remember, if you need to update anything like your contact information, call sign, license class, membership, or members only log-in information, you can email Nancy at Nancy.Meydell@allina.com.
Answer the Handiham History trivia question correctly to be eligible to win the prize! Winners will need to respond, confirming their contact information before we send out your prize. Please note: only current Handiham Members are eligible to win. Since we did not have a winner last week, we are once again offering the last 40th Anniversary hat this week.
In the E-Letter this week, we have the second half of an interview from Johnny Ott. We also have all the comments that were submitted on the ARRL proposal. Additionally, there is a link to an article and video about a blind hockey team, along with the usual content contained in the E-Letter each week.
Do you have a story to share about assistive technology or ham radio related activities? Please send your articles and stories via email to Lucinda.Moody@allina.com or by calling me at 612-775-2290.
---
ARRL Proposal Comments
The comments have poured in, both in support of and against the ARRL proposal for expanded HF privileges for Technician class operators. The request includes some phone privileges in the 75, 40, and 15 meter bands along with RTTY and digital mode privileges on the 80, 40, 15, and 10 meter bands. You can check out the story from the ARRL at the following link: http://www.arrl.org/news/arrl-requests-expanded-hf-privileges-for-techni...
This ARRL proposal disturbs me. What is the REAL reason for this action? I don't see it making an entry level candidate more likely to get into ham radio - and more members for ARRL. I hope it is not pressure from QST Advertisers and suppliers of HF ham equipment. But, when things like this come up "out of the blue," something smells to me of money to be made.
I'd prefer we go for quality, not quantity of new hams. It is truly amazing the simplistic questions that are being asked on social media. That which is acquired too easily is not respected.
Nuts!
Bill, K9BV
Hi, Lucinda,
In the HandiHam newsletter, you asked for comments about the ARRL's proposal to expand technician privileges. I have my comments at my blog:
http://onetuberadio.com/2018/03/06/arrl-petition-for-technician-digital-...
In general, I'm very much in favor of this. I don't have strong feelings one way or another about voice privileges, but I think it's very important for Technicians to have some digital privileges on the lower HF bands. This would allow new Technicians to get on the air with very inexpensive equipment ($125) and be able to meaningfully communicate. Almost everyone already owns a computer, tablet, or smart phone. There are inexpensive rigs that can simply plug in to the computer's sound card, and immediately get on the air with PSK31, FT8, or other digital modes.
I suspect this could be especially useful for disabled persons. After taking the entry-level test, it would be an easy job for someone to help them set up a station, show them how to use it, and let them be making HF contacts the same day. The cost of equipment is very low, and antennas can be very simple, such as a quarter-wave wire, which can be squeezed into almost any living situation.
TNX & 73,

Rick, W0IS
Hi Lucinda!
I would not support the ARRL's proposal to give techs more SSB privileges as described. They don't use the facilities they already have, which are arguably simpler to organize. I believe this is true because I have tried to recruit them, to even install Echolink, which is free on any device, but no one has ever done so in response to my effort. Too many digital modes are inaccessible, so it goes without saying, that they wouldn't gain much even if the proposal is accepted by FCC.
73,
Dave, WD8LDY
Hi:
I've been licensed since 1956 and been through many FCC & ARRL proposals and actual changes over the years. Always there has been controversies for and against the proposals. When the actual change has been in effect for a year or two or three, most often all that controversy goes away.
One big example and exception I remember was when the FCC took the 11 meter band away and gave it to a group and called it Citizen Band. Many of the Hams resented having lost the 11 meter band, but by now, most of that has passed. Another example was when the code requirement was dropped many of the "OLD TIME" Hams wanted to keep it, but now there is hardly any mention of it. As Doris Day sang in one of her movies "What Ever Will Be Will Be."
73 es DX de K0HLA Avery
Hi Lucinda,

I don't have any problem with giving Techs phone or voice privileges on HF. However, I do question some of the proposed frequency allocations. This is based on what I know about the bands from operating them for over 30 years. The ARRL is proposing 3.900 to 4 MHz for Technician voice. Have you ever tuned around 75 meters at night when the band is open? There is no room for any Tech to operate there because it is already overcrowded.
They say that would give Techs an opportunity to check in to section nets. While a lot of those nets operate above 3.900, a lot also don't. The MN net is on 3.860. So is ND and SD. I think it would be better to maybe give Techs 3.8 to 3.9 or just give them 3.8 to 4 MHz. Also, if you look at the 40 meter allocation that is proposed, the Techs are just getting the part of the band that most hams don't really want to operate. During the day there is some activity above 7.225, mostly nets and the like, but at night most of the activity is below 7.200. So the Techs won't really be able to do much there either. I think the 15 meter proposal is ok.
Also, if they're going to give the Techs more voice privileges then leave the 80 meter extra phone band alone. The digital folks I have talked to say they have plenty of room. Also, maybe we should look at using our frequencies more like they do in the rest of the world. For example, in Canada they do not have separate voice and CW bands. They can do whatever they want where they want as long as they're with in their frequency allocation.
Also, I think it's time some of these ARRL people stop pushing paper and talking big. They should get on the air and listen around the bands so they really know what is going on with the bands they intend to have something to do with. Our new director for the section can't even get on HF at all, only for a contest where he can be portable. To me, that's not good enough to know what happens on an everyday basis.
Thanks, 73, Matt, KA0PQW
Hi Lucinda,
I wish to comment on the proposal to allow Techs phone privileges on HF. I'm for anything that will give hams more operating privileges as well as the growth of our hobby. I sincerely believe that more prospective hams will want to get their license when they learn that they can talk on HF as well as VHF repeaters. Our hobby is getting older, folks. We need to make it younger.
Doug Emerson N6NFF
Hi Lucinda,
I am not in favor of this. If a blind person can learn and take a General test, so can an abled-bodied Tech. I worked really hard to get my General, and worked really hard for my Extra. The ARRL can jump in the lake on this proposal.
Pierre, K9EYE
Lucinda,
The ARRL is on the right track. Demographics are closing in on ham radio, and the resulting decline in participation unless something is done will herald the end of our beloved avocation. Let's look at a few things that anyone can observe for themselves. First, a visit to a club meeting or hamfest will confirm that we are mostly older men, many of us retired and some long retired. Second, as the ARRL points out, the largest share of licensees (few of whom you see at those club meetings) are Technicians. Third, your local repeater is most likely a dead zone of inactivity. Most repeaters are silent all day long, and I take from that the reality that Technicians are not getting on the air, having been restricted to the dead repeater zone and a smattering of mostly useless or unattractive HF frequency and mode combinations.
What is going to happen in short order is that the Baby Boomers like me are going to retire if they have not already done so, and then they are going to downsize and move someplace where they won't be able to easily put up HF antennas. Few will be attracted to the already dead VHF/UHF repeaters out there. They may choose HF mobile or remote HF operation, but regardless, when they downsize, there will be a glut of used radio gear on the market. The bands will go silent.
Meanwhile, those Technician Class licensees who are inactive will stay that way, and their unused licenses will expire. Remember, most hams - 378,000 - are Techs
The sensible thing to do is to follow through with our support of the ARRL's petition so that we can increase the amount of HF activity and build interest in maintaining and upgrading the licenses of these fellow operators.
The objections to any kind of change are oh, so familiar - I've heard them all before every time the regulations were updated. Making newbies take the same exam we did 40 years ago just because we had to do it and we can't bear to see someone else not have to do the same thing... Well, that's just not good enough. Techs have already been tested on HF operation. The current Technician Pool covers HF. Let's welcome the newcomers to HF phone on frequencies that are unused most days, even when those bands are open. Let's work with HF newbies to help them learn the quirks of HF propagation and the best practices of HF operation and digital modes. Remember, new Techs on the HF bands have roughly the same HF background experience as newly-licensed General Class ops - little to none. They could all use our help and encouragement.
And thank you, ARRL.
Pat Tice, WAØTDA
---
Adaptive Hockey



Blind hockey team demonstrates the thrill of the sport
The Washington Wheelers hope that Blind Hockey continues to spread throughout North America and officially becomes an event at the Winter Paralympic Games. http://wapo.st/2BIWh5l
---
Interview of the Week



This week, we get to hear the second half of the interview from last week with Johnny Ott, WA8WFH. While the interview airs in the podcast, I have included an edited transcription of the interview below.
JO: Not only has Maureen Pranghofer been a great help to me, but one of my favorite people is Diane Vorwald, WD9DNQ. When she says Diane Never Quits, she is right! I am here to tell you! Anyway, everybody has just been marvelous, and I have enjoyed the ride. My mom thinks maybe I'll reach a hundred years or so, and maybe I will still be licensed. I don't plan on losing anything. I want to hang on to everything I have worked for, especially my original call sign that I essentially grew up with. I am not about to get rid of it! Any time I go back to Michigan, I like to go portable to Windsor, Ontario as /portable VE3. I don't do it that often—I don't get home that much, but when I do, I thoroughly enjoy it. It has been a wonderful ride, and I just want to thank everybody.
JO: Another person I must thank is Tom Miller, N0UE. He has helped me with a lot. He has also done a lot of volunteer work with the Handiham Program. He helped make it possible for me to go to camp in addition to helping in numerous other ways. I want to make sure to thank him.
JO: Hap Holly is another one who I need to mention. I had a chance to meet him at an NFB convention in Chicago. Another couple that helped me a lot was Lenore Jensen, W6NAZ, and her husband, Bob Jensen, W6VGQ. I learned about them through what was then Recordings for the Blind. They ran the West Hollywood Studios. I used to get some of their material.
JO: From time to time, my mom and others have told me that I should write a book because of all the things I have seen and done. Well, I don't know. I might do that someday. We will have to wait and see. So, anyway, 51 years as of May. I will have been in Minnesota 26 years in November. I have lots of anniversaries and commemorating to enjoy this year. I was also able to get some other life memberships as they were offered. I am a Handiham Program and ARRL Life Member. I am also a Life Member of QCWA. And when I started hearing things about the International Missionary Association and other organizations, when they had memberships available, I joined them as well.
JO: Last year was a big year for me, not only did I get a brand-new knee, I got a new computer and Windows 10. Anyway, it has been fun, and I want to keep sharing the hobby with people and letting them know it is out there. Yes, cell phones are nice—smart phones and dumb phones and all of that. But the ham radio hobby is where you really get to meet people. You don't have to worry about spending your life texting away—I'm not sure why people think that's a career to get involved in. I mean, I can text from time to time, if I need to. Getting your ham license and enjoying all the things that are available—you might be able to talk with astronauts and play with satellites. Obviously, there are things that I am able to do legally that I will probably will never even get into because there is so much out there. And then when you live in an apartment building where you can't put up outside antennas, that hurts too. That is where the remote base stations and Echolink comes in.
JO: I just want to thank everybody for making this ride worthwhile. I have enjoyed my time with the Handiham Program. Of course, I worked with Sister Alverna and Pat Tice. It's been quite a ride, and I recommend it to anybody and everybody. There are things out there that you will learn from people who know how to do it the right way and where everything, as much as can be, is accessible. That's the thing you want, accessibility. Again, I thank everybody for making the ride worth the trip. I wish everybody the best as they think of upgrading or getting their first license. It is something they will thoroughly enjoy.
LM: Thanks, Johnny. Why don't you tell us some of your favorite memories of Radio Camp. I know you have a few stories for us.
JO: I do. Well, keep in mind that when I get to Radio Camp, I get to do things that I do not get to do during the rest of the year. I spend as much time as I can on the air. I enjoy sitting in on the Extra Class Seminars. If I am needed to help in any way, I get to do that. Of course, I line up to do the VE sessions when needed. I enjoy Matt Arthur's campfire recitals. I miss it when we don't have camp, not just because I get to do things I don't get to do the rest of the year. But I also miss playing with the new assistive technology.
JO: I also like the day that we spend working with Phil Temples on emergency exercises, because you need to keep up your training on emergencies and how to handle them. Also, when people think that people with disabilities don't know how to do anything or can't do anything, they will see that it is not true. They will see us do things that many people think are not possible. For the longest time, for example, people thought that Handiham members or blind people could not be VEs. That is not true. We can prove it, and we can demonstrate it. Now, we may have to do things differently. The National Federation of the Blind calls those things alternative techniques. Some are better, some are not so good, and some are about the same. It is a different way of doing things, but it is doable. And with all the screen-reading software and Braille displays—we still have ways to go—we have not solved all our problems yet. But one of the other people that I really look up to is Ken Silberman, KB3LLA. He is good at what he does.
JO: I am just glad to be a part of the Handiham Program, and I would like for more people to join us. And I hope that someday we can start having Radio Camp. It is great to be a happy camper. Plus, we need to make up for the Golden Anniversary of the Handiham Program from last year, since we were not able to do much for it. We have a message to get out to people. You get to be with your own "fellow travelers." I have so many great memories.
JO: I guess my reputation follows me wherever I go. As my mom used to say, "It pays to be worth it."
Editor's Note: Johnny included some comedy here that is difficult to transcribe. You will have to listen to the podcast to check it out!
LM: This is your last chance. What else do you want to add?
JO: Let's get back to camping. We need to make the Program known, not only at Dayton but also at the other events that serve people with various disabilities. The Handiham Program has a lot of dedicated people, and I just can't support it enough. The Handiham Program and the ham radio hobby are my favorite thing.
Editor's Note: We thank Johnny for coming into the Handiham Program office to participate in this interview.
---
Ham Radio in the News
Hamvention Setting Space Aside to Spotlight Emergency Communication Vehicles
The 2018 Hamvention will be showing off numerous communications vehicles this May. Hamvention organizers hope that many emergency response groups will participate. Groups displaying vehicles will be asked to have them functional and to offer capability demonstrations during the event. Groups that want to participate can find more details at the Hamvention website's EmComm page.
Hamvention will also offer emergency communicators more than ten forums dealing with various aspects of public service. For those who attend a minimum of three ARRL-sponsored public service forums, a certificate will be issued. Hamvention 2018 will take place May 18 – 20 at the Greene County Fairgrounds and Expo Center in Xenia, Ohio. You can read the entire story at the following link: http://www.arrl.org/news/hamvention-setting-space-aside-to-spotlight-eme...
---
Win Some Handiham History Loot
Here is your chance to own a piece of Handiham Program history! We are again offering the last remaining 40th Anniversary Handiham hat. These hats were originally available in 2007 as part of the celebration of forty years of the Handiham Program. If you want a chance to win this hat, make sure your membership is current and answer the following question:



W0EQO is the call sign that first belonged to Ott Miller, former president of the Handiham Program. It is now one of two call signs that are used during Handiham Radio Club sponsored events. W0ZSW, Ned Carman's former call sign is the second. While all of the initial officers of the Handiham Program were from the Rochester, Minnesota area, where was Ott Miller from? (Hint: Check out past E-Letters from 2017 if you are not sure of the answers to these questions.)
You can send your answer via email to Nancy.Meydell@allina.com or call 612-775-2291. Make sure to include your name, call sign, license class, and current contact information. We will pick the winner on Tuesday, April 3.
---
Equipment Connection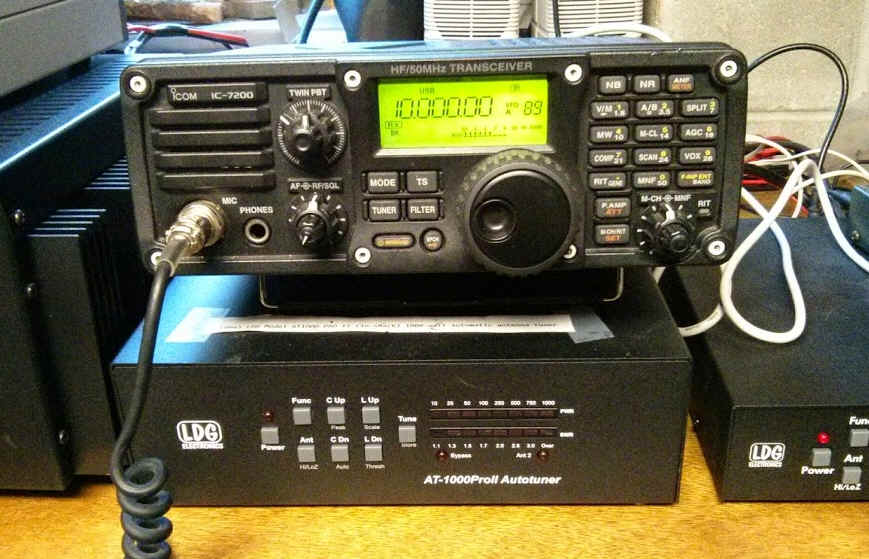 The list is open! If you have a request for the Equipment Connection, contact me, leaving your name and phone number. I will call you to discuss your request. Please note that it may take several days for a return call due to all of the other things going on in the Handiham Program. If you don't hear back from me after two weeks, you may contact us a second time.
Many thanks to the numerous people who have offered equipment for Handiham Members. If you have equipment that you would like to donate to a Handiham Program member, please email Lucinda at Lucinda.Moody@allina.com or call 1-612-775-2290.
---
Check into our Handiham nets... Everyone is welcome! 
How to find the Handiham Net: 
The Handiham EchoLink conference is 494492.  Connect via your iPhone, Android phone, PC, or on a connected simplex node or repeater system in your area.

The Handiham Net will be on the air daily. If there is no net control station on any scheduled net day, we will have a roundtable on the air get-together.  
Our daily Echolink net continues to operate for anyone and everyone who wishes to participate at 11:00 hours CDT (Noon Eastern and 09:00 Pacific), as well as Wednesday evenings at 19:00 hours CDT (7 PM).  If you calculate GMT, the time difference is that GMT is five hours ahead of Minnesota time during the summer.
Doug, N6NFF, poses a trivia question in the first half of the Wednesday evening session, so check in early if you want to take a guess. The answer to the trivia question is generally given shortly after the half-hour mark. A big THANK YOU to all of our net control stations and to Michael, VE7KI, the Handiham Radio Club Net Manager.
---
Membership
You can pay your Handiham dues and certain other program fees on line. Simply follow the link to our secure payment site, then enter your information and submit the payment. 

Handiham annual membership dues are $12.00.  The lifetime membership rate is $120.00.
MEMBERSHIP DUES PAYMENT LINK

If you want to donate to the Handiham Program, please use our donation website.  The instructions are at the following link:
DONATION LINK
As always, while our other services require that you have a current Handiham Program membership, you do not have to be a member to receive the Handiham World E-Letter.
How to contact us
There are several ways to contact us.
Postal Mail:
Courage Kenny Handiham Program
3915 Golden Valley Road MR#78446
Golden Valley, MN 55422

E-Mail: Nancy.Meydell@allina.com

Preferred telephone: 1-612-775-2291
Toll-Free telephone: 1-866-HANDIHAM (1-866-426-3442)

Note: Mondays through Thursdays between 9:00 AM and 2:00 PM United States Central Time are the best times to contact us.

You may also call Handiham Program Coordinator Lucinda Moody, AB8WF, at: 612-775-2290.

73, and I hope to hear you on the air soon! 
For Handiham World, this is Lucinda Moody, AB8WF

The weekly e-letter is a compilation of software tips, operating information, and Handiham news. It is published on Wednesdays, and is available to everyone free of charge. Please email Nancy.Meydell@allina.com  for changes of address, unsubscribes, etc. Include your old email address and your new address.