Courage Kenny Rehabilitation Institute Handiham World Weekly E-Letter for the week of Wednesday, April 4, 2018
This is a free weekly news & information update from the Courage Kenny Handiham Program, serving people with disabilities in Amateur Radio since 1967. 
Our contact information is at the end.
Listen here:
https://handiham.org/audio/handiham04APR2018.mp3
RSS feed for the audio podcast if you use other podcasting software:
http://feeds.feedBurner.com/handiham
Subscribe or change your subscription to the E-mail version here.
---
Welcome to Handiham World.
In this edition: 
A note from the coordinator

News in Assistive Technology

ABLE Accounts

Interview of the Week

Ham Radio In the News

Win Some Handiham History Loot

Equipment Connection

Check into our nets!

...And more!
---
A note from the coordinator...
The final plans are in place for the Dayton Hamvention. If you plan to be there, we would love to have you stop by the booth. As usual, we will have a place to rest your feet and visit for a bit before you head back out to other booths. We will also have some assistive technology and accessible amateur radio equipment to show. We might even do some short interviews to include in a later E-Letter and podcast!
This week, Nancy and I are in the office during our usual hours. Remember, if you need to update anything like your contact information, call sign, license class, membership, or members only log-in information, you can email Nancy at Nancy.Meydell@allina.com.
Respond to the Handiham History trivia question to be eligible to win the prize! Winners will need to contact Nancy, confirming their contact information before we send out your prize. Please note: only current Handiham Members are eligible to win.
Featured in the E-Letter this week is an interview with Maureen Pranghofer, KF0I. There is also some information about another app for persons who are visually impaired or blind and a link to a video with more information about ABLE accounts.
Do you have a story to share about assistive technology or ham radio related activities? Please send your articles and stories via email to Lucinda.Moody@allina.com or by calling me at 612-775-2290.
---
News in Assistive Technology
Seeing AI App
Seeing AI is a free app that narrates the world around you. Designed for the blind and low vision community, this ongoing research project harnesses the power of AI to open up the visual world and describe nearby people, text and objects. Seeing AI demonstrates how technology can make the world more inclusive. Available in the iOS App Store. For more information, visit http://SeeingAI.com
---
ABLE Accounts



ABLE accounts are tax advantaged savings accounts for persons with disabilities. To learn more, you can go to the ABLE National Resource Center at http://ablenrc.org/ and check out the following video: https://youtu.be/mMygkeBfJYg
---
Interview of the Week



Maureen Pranghofer, KF0I, took the time to come visit the Handiham Program office a couple weeks ago. It was especially nice to hear more about the history of the Handiham Program from someone who played such an integral part. While the interview airs in the podcast, I have included an edited transcription of the interview below.
LM: Your name is all over the place in the history, but I would love to hear about it more from you!
MP: Well, how I heard about ham radio. Ok, I'm almost 64. When I was a sophomore in high school, my biology / science / physics teacher had his novice in the early 60s. When I was in physics and studying electronics and enjoying it, he was saying he had a novice license in the 60s and let it lapse. He said the hobby was really fun and that he regretted letting his license expire.
MP: I was born with a vision problem and a bone disease. While I never had normal vision, I was visually impaired and walked with crutches and a leg brace. So, I came home and told my parents that I had heard about this thing called ham radio, and my parents responded, telling me they did not know what that was. They told me they did not know how to do it. Then my mom asked some of the people she worked with.
MP: In the 1960s and 70s, Courage Center was run by the Minnesota Society for Crippled Children and Adults, MiSCCA. And my mother was the chairman for MiSCCA, so she had an envelope, and she would go around in our little town to collect donations. I grew up in Lester Prairie, Minnesota, and my husband says you are either going there or are lost. It's really small!
MP: So, she was the county chairman for McLeod County, and she would go around collecting donations for MiSCCA. She asked one of the other people who worked there if they knew how she could get her kid into ham radio. About a year later, they came back and told her about Ned Carman in Rochester and that he had started this new thing called the Minnesota Handihams. They said that Ned tried to get people with disabilities involved in amateur radio.
MP: I wrote them a letter, and that letter arrived to Sister Alverna, the person who was taking care of the mail then. She got the letter, but they did not have any volunteers where I lived in the western part of the state. One day, however, I got a phone call from a guy named John Vervair, WB0WPP, and he said he would be my volunteer. So that started it, and he would come over every Sunday evening, no matter what the weather was—if it was a blizzard, no matter what. We had to do Morse code at the time, and he would teach me Morse code, and we would work on the theory. And I passed my Novice, and he got me a radio through the new Minnesota Handihams group.
MP: Then they had this weekend-long event at Camp Courage called May Convocation. I went to that, and Ned Carman was there. He gave me this big hug—he was like this big teddy bear kind of guy. In my 64 years, he is one of the sweetest and kindest people I have ever met—just an awesome guy. Ned was W0ZSW. He had started the Program because when he was a bill collector for the Mayo Clinic, he would travel around rural southern Minnesota, and he would visit people who could not pay their bills to help figure out what could be done. He saw all these people who were mostly using wheel chairs stranded in their homes due to disability. Back then, there was no transportation or services available for people with disabilities. Additionally, a lot of people did not live in accessible homes and simply could not get out. He thought that ham radio would be a way for people to "get out" of their homes. He started talking to other ham radio operators and got the sisters from St. Francis to help. So that was the early start of Handihams.
MP: I was one of the first members of the Handiham Program. So, I got my Novice and then my General (they did not have a Technician then). Then there was a guy named Phil from Corpus Christi, Texas. He was a navigator on an oil tanker. He would be gone for six months and back for six months. I don't know how it started, but he heard about the Minnesota Handiham group, and he decided to travel around the country, staying at the home of hams with disabilities putting up antennas for them. When he was not on the oil tanker, he did not have a home, so he just traveled from one home to the next doing antenna work. He helped quite a bit at my house getting a dipole up. One time, I was in the hospital while I was in college, and when I came home, he said I had a new radio. Someone had donated it, and he had brought it in and set it up.
MP: My dad built a ham shack in one of the bedroom closets at home. My first radio drifted so badly, that you could start at the top of the band, and, while I was doing my homework, I would listen to it drift, getting pieces of conversation all the way down the band. I was so happy to be on the air. There was this thing called the PICONet that was on 3925, 80 meters. It was run mostly by people with disabilities. Each person would take an hour, and they would sit there and just be there for whoever wanted to check in and talk.
MP: When it came time for me to go to college, I had just gotten my General. I had a really good friend who was blind who I met through the Handiham Program named Dick, WB0CPC—we called him Cotton Picking Charlie. I was on the phone with him one day telling him how excited I was to be heading to the College of St. Teresa's in Winona, Minnesota. I was going there because they had a music therapy degree, the area I wanted to go into, and I told them I would not come unless I could have my ham radio station in my dorm room. They had a nun, Sister Judith, that was a ham, although she was inactive. But she loved ham radio and helping, and she made a dipole, running the wire to hook from my radio into the outside antenna. I just had 80 meters with that antenna, but I was on the air all the time in college. When I told Dick that I was excited to go there because it was close to Rochester so Ned could help me with my station, Dick told me that Ned had died last month.
MP: Ned had dropped dead of a heart attack in his mid-fifties. He was getting ready to go to Iowa to propose having Handiham Programs in more than one state. So, when I got to school, Ned was not around to help, but Sister Judith helped. She also was a reader for me because, although I had some vision, I needed her help for reading. She got me through college, basically, because she did a ton of reading for me.
MP: So, I got my music therapy degree and moved into an apartment, although I never set my station up in the apartment. I got married, and we bought a house in South Minneapolis. I set my station up in the basement. I ran into Bruce Humphrys, K0HR. He worked at MiSCCA, raising money for them. In the 70s, MiSCCA and the Handiham Program joined because after Ned died, they needed some leadership for the program. Eventually, he was asked to run the Handiham Program in the late 70s. Both Sister Alverna and I joined the Program in 1980. I was in graduate school, working on my Masters in Social Work, and I was burned out from my studies. I needed to take a break, but I stayed for 12 years before I left to return to graduate school.
MP: In 1993, I had an accident on campus, hitting my head on cement. I became totally blind over the next four days. Then in 1996, Sister Alverna had a car accident and was hospitalized. Pat Tice, who was now the head of the Handiham Program, asked me to come and help, doing the job I had previously done. After just two weeks, I was in a car accident that resulted in a spinal cord injury. So, we joked that nobody could sit in Sister Alverna's desk! It just did not work! That's how I ended up using a wheel chair.
MP: I had a beautiful station at home with a Ten-Tec radio and a Butternut antenna. When I was first married, I had the station in my basement, and I was on the radio all the time. I still had that radio from college, but I wanted to operate more than just 80 meters. Back then, the Handiham office was in the basement, next to a patio. We used to operate Field Day from the patio. I was talking to Bruce about how I needed a different radio. He asked if I liked the Drake that was being used for Field Day. I said I liked it, and he said I could buy it because they had been looking to get rid of it. So, Field Day ended early because I bought the station and took it home! That became my home radio, and Dr. Dave, KN0S, set up a tower. So, I did more DXing and was on 20 meters a lot and really was on the air a lot during the 80s.
MP: Then we moved to Golden Valley so I could be closer to Courage Center, so it would be easier to get to work. I live about a mile away. It is because of the Handiham Program that my husband and I have lived in Golden Valley for the past thirty years. What happened was that I was working full-time with Handiham students along with being a columnist for World Radio magazine, so people knew my call sign. And ham radio became not fun for me. When I got on the radio, and people knew my call sign, they would ask me questions like those I answered for work. So, even though I had a really nice station, I virtually never got on it. Then, after both accidents, it was such a life change being totally blind and in a wheel chair, I was not in the mood to get on. In 2010, we decided that if we moved the laundry room upstairs, I could do more of my own care with the help of my husband and the occasional help of a PCA. I sold all my equipment and took all my antennas down. I basically have not been on the air since 2007.
LM: That's a long time.
MA: I am renewing my license, however, because I do have my Extra Class license. I think maybe someday I will want to get back into ham radio again because I guess you can do ham radio over the computer.
LM: Wow! You have so much history with the Program.
MA: It was a huge part of my life. We figured out that I helped over 6,000 people, people in every state and 36 countries.
LM: What a legacy!
Editor's Note: We really appreciate Maureen taking the time to visit us at the Handiham Program office and sharing her memories with us.
---
Ham Radio in the News
More than 30,000 New Ham Licensees and 7,000 Amateur Radio Exam Sessions in 2017
In each of the last four years, some 30,000 new people joined the ranks of amateur radio operators. The ARRL is hopeful that this trend will continue in 2018. All news is not good, however as some 27,000 licenses expired or were cancelled last year. You can read the entire story at the following link: http://www.arrl.org/news/more-than-30-000-new-ham-licensees-and-7-000-am...
---
Win Some Handiham History Loot
Here is your chance to own a piece of Handiham Program history! Since we are down to our final few prizes, we will change things up a little bit this week in the question we are asking. We are once again offering the last remaining 40th Anniversary Handiham hat. These hats were originally available in 2007 as part of the celebration of forty years of the Handiham Program. If you want a chance to win this hat, make sure your membership is current and answer the following question:



The Handiham Radio Camp, a week of studying, developing on-air skills, and hands-on radio activities, has been taking place since the 1970s. This week, we want to hear your memories. To be eligible for the drawing, you will need to report your favorite camp memory from over the years. If you have never been to Radio Camp, you can share your favorite amateur radio memory instead.
You can send your answer via email to Nancy.Meydell@allina.com or call 612-775-2291. Make sure to include your name, call sign, license class, and current contact information. We will pick the winner on Tuesday, April 10.
---
Equipment Connection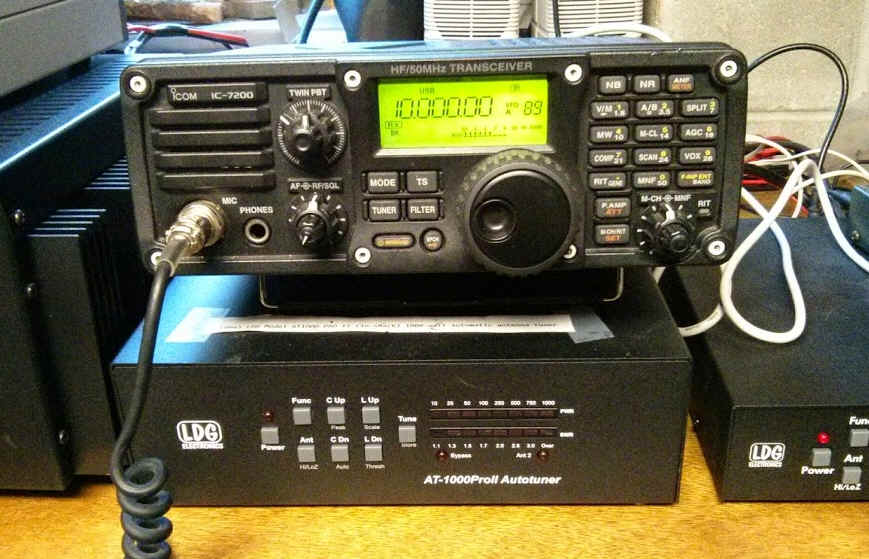 Equipment connections are happening! As a reminder, there is some fine print that you will need to be aware of when these connections take place.
Courage Kenny Rehabilitation Institute, part of Allina Health ("CKRI"), provides a way to connect Handiham members in need of radio equipment with people who want to donate used equipment; however, CKRI makes no warranty whatsoever regarding the equipment. No warranties, promises, and/or representations of any kind, express or implied, are given as to the equipment.
CKRI shall not be liable for any loss or damage of whatever nature (direct, indirect, consequential, or other) whether arising in contract or tort or otherwise, which may arise as a result of your use of contact information (or failure to use) contact information provided by CKRI. CKRI only provides contact information upon request where an individual has used ham radio equipment to share that matches a request and both individuals have agreed to the exchange of contact information. The outcome of the contact between the individuals is not with the control of CKRI, and we cannot take responsibility for any aspect of the communications or transactions. The provision of contact information is not to be taken as an endorsement or representation of any kind by CKRI.
If you have a request for the Equipment Connection, contact me, leaving your name and phone number. I will call you to discuss your request. Please note that it may take several days for a return call due to all of the other things going on in the Handiham Program. If you don't hear back from me after two weeks, you may contact us a second time.
Many thanks to the numerous people who have offered equipment for Handiham Members. If you have equipment that you would like to donate to a Handiham Program member, please email Lucinda at Lucinda.Moody@allina.com or call 1-612-775-2290.
---
Check into our Handiham nets... Everyone is welcome! 
How to find the Handiham Net: 
The Handiham EchoLink conference is 494492.  Connect via your iPhone, Android phone, PC, or on a connected simplex node or repeater system in your area.

The Handiham Net will be on the air daily. If there is no net control station on any scheduled net day, we will have a roundtable on the air get-together.  
Our daily Echolink net continues to operate for anyone and everyone who wishes to participate at 11:00 hours CDT (Noon Eastern and 09:00 Pacific), as well as Wednesday evenings at 19:00 hours CDT (7 PM).  If you calculate GMT, the time difference is that GMT is five hours ahead of Minnesota time during the summer.
Doug, N6NFF, poses a trivia question in the first half of the Wednesday evening session, so check in early if you want to take a guess. The answer to the trivia question is generally given shortly after the half-hour mark. A big THANK YOU to all of our net control stations and to Michael, VE7KI, the Handiham Radio Club Net Manager.
---
Membership
You can pay your Handiham dues and certain other program fees on line. Simply follow the link to our secure payment site, then enter your information and submit the payment. 

Handiham annual membership dues are $12.00.  The lifetime membership rate is $120.00.
MEMBERSHIP DUES PAYMENT LINK

If you want to donate to the Handiham Program, please use our donation website.  The instructions are at the following link:
DONATION LINK
As always, while our other services require that you have a current Handiham Program membership, you do not have to be a member to receive the Handiham World E-Letter.
How to contact us
There are several ways to contact us.
Postal Mail:
Courage Kenny Handiham Program
3915 Golden Valley Road MR#78446
Golden Valley, MN 55422

E-Mail: Nancy.Meydell@allina.com

Preferred telephone: 1-612-775-2291
Toll-Free telephone: 1-866-HANDIHAM (1-866-426-3442)

Note: Mondays through Thursdays between 9:00 AM and 2:00 PM United States Central Time are the best times to contact us.

You may also call Handiham Program Coordinator Lucinda Moody, AB8WF, at: 612-775-2290.

73, and I hope to hear you on the air soon! 
For Handiham World, this is Lucinda Moody, AB8WF

The weekly e-letter is a compilation of software tips, operating information, and Handiham news. It is published on Wednesdays, and is available to everyone free of charge. Please email Nancy.Meydell@allina.com  for changes of address, unsubscribes, etc. Include your old email address and your new address.