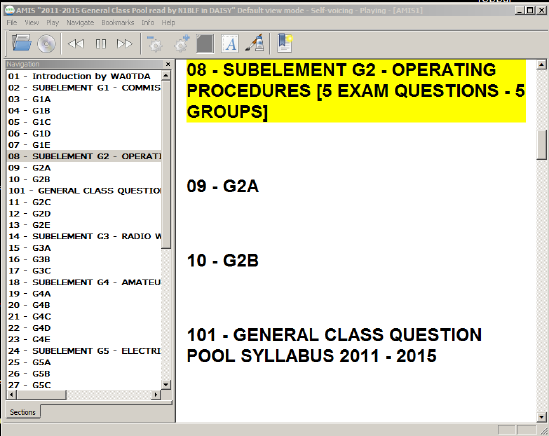 DAISY books provide spoken word audio that is connected to text. This is the new world standard for blind users. If you have a Windows computer and need a way to read DAISY books, you should try the free software "AMIS", which is pronounced "ah-me". It is French for "friend", and you will certainly find AMIS to be your friend once you begin using it and finding out how easy it is to navigate through sections of books, finding just what you want. AMIS is self-voicing, but the installation file does include scripts for both the JAWS and Window-Eyes screenreaders.
How to get started:
AMIS is a free of charge, open source DAISY book playback software. DAISY books are used by our Handiham members who are blind or have a reading disability.
Check the AMIS website for the latest stable release of AMIS. You can view the release notes, learn the latest news, or download AMIS by visiting
http://daisy.org/projects/amis
Handiham members can log in to the Members Only section, go to the Handiham Daisy Book Collection, and in the DAISY directory find the book of interest to them.
For example, go to the DAISY directory, locate the file "2011-2015_General_pool_by_N1BLF.zip" and download it. This is the entire General Class question pool with only the correct answers, read by Handiham volunteer Bob Zeida, N1BLF.
A zip file is a single compressed file that contains many individual files. It is usually very large and provides the simplest way for users of DAISY books to download the entire book as a single file.
Once downloaded, the zip file must be "unzipped", a process that recreates the original DAISY book in a single computer folder. New versions of Windows do this right through Windows Explorer, but older versions may require unzipping software.
When you have the DAISY book recreated in its folder, it is time to use AMIS to open the book. The file you want AMIS to open is called ncc.html. All the files from the folder must be in the same folder for AMIS to read the book. As you are just getting to know AMIS, it is best to place the book file folder on your Windows Desktop so that you can locate the folder easily. The command CTRL-O brings up the AMIS open file dialog.
After that, AMIS is pretty intuitive. Play around with it and you will be delighted with how easy it is to use.