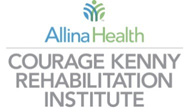 Courage Kenny Rehabilitation Institute Handiham World Weekly E-Letter for the week of Wednesday, August 21, 2019
This is a free weekly news & information update from the Courage Kenny Handiham Program, serving people with disabilities in Amateur Radio since 1967.
Our contact information is at the end.
Listen here:
https://handiham.org/audio/handiham21AUG2019.mp3

Get this podcast in iTunes:

RSS feed for the audio podcast if you use other podcasting software:
https://handiham.org/wordpress1/feed/podcast/
RSS feed for the audio podcast if you use other podcasting software:
https://handiham.org/wordpress1/feed/podcast/
Subscribe or change your subscription to the E-mail version here.
---
Welcome to Handiham World.
In this edition:
A note from the coordinator
News in Assistive Technology
From the Mailbag
Interview of the Week
Ham Radio in the News
A Dip in the Pool
Website Update
Equipment Connection
Help Needed
Check into our nets!
…And more!
---
A note from the coordinator…
Things are always changing at the Handiham Program. The next change is the E-Letter is moving to Monday. That works better for our schedule at this time, so look for your E-Letter on Monday next week.
Now to report some about the middle of the week of camp. During the early afternoon break for Handiham volunteers and instructors, the camp staff did a great job of providing fun activities that everyone could enjoy each day. Campers went tubing and got on the watermat on Lake George. There were nature walks, spa days, swimming, archery, and fishing as well. Campers commented on how much fun they had, and the activities helped refresh their brains, so they were ready to learn again during the afternoon class session.
On Monday, Diane, WD9DNQ, ran the PICOnet using the Kenwood TS-590 station. She has many years of experience and is an excellent net control operator. Joe, AI0Y, was her mic controller, and John, NU6P, logged for her. It was so good to see Diane back at the mic and having the time of her life!
On Tuesday, we had a blast from the past with Coleen coming to visit at lunch time! She got up and gave one of her usual Radio Camp speeches—for those of you who are new, Coleen does not need a mic! She even sang a song for us!
We continued with the longstanding tradition of having a nightly campfire that included a jam session. On the packing list for camp, we ask campers and volunteers to bring any portable instruments with them. This year, we had Matt Arthur, KA0PQW, there with his guitar and vocals. Additionally, Zach Orner, from Camp Courage North, joined in playing both his ukulele and guitar and singing along. To make it even better, Lynelle Tyler, KJ7IHQ—one of several new call signs from the week—joined in with her mandolin and beautiful voice. She also borrowed Matt's guitar at times, and we greatly enjoyed her talent.
To distract from the jitters the night before the VE test session, we reinstated the annual Radio Camp Talent Show. The Handiham Program members and volunteers have a lot of talent, and it was so nice to have them share that with everyone! Of course, Johnny, WA8WFH, did his stand-up comedy routine,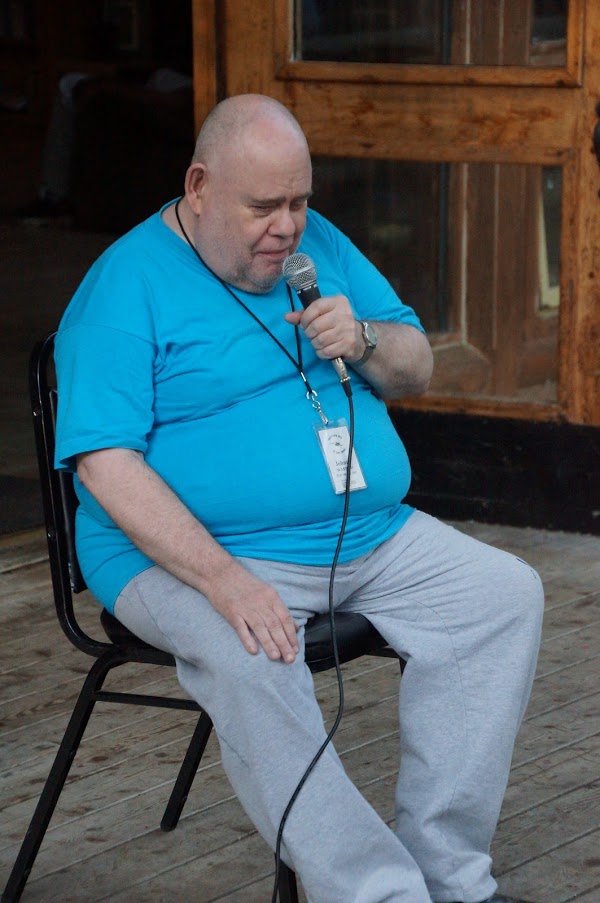 and Joanne, KG6POZ, did her rendition of the Rubber Ducky song about rubber duck antennas.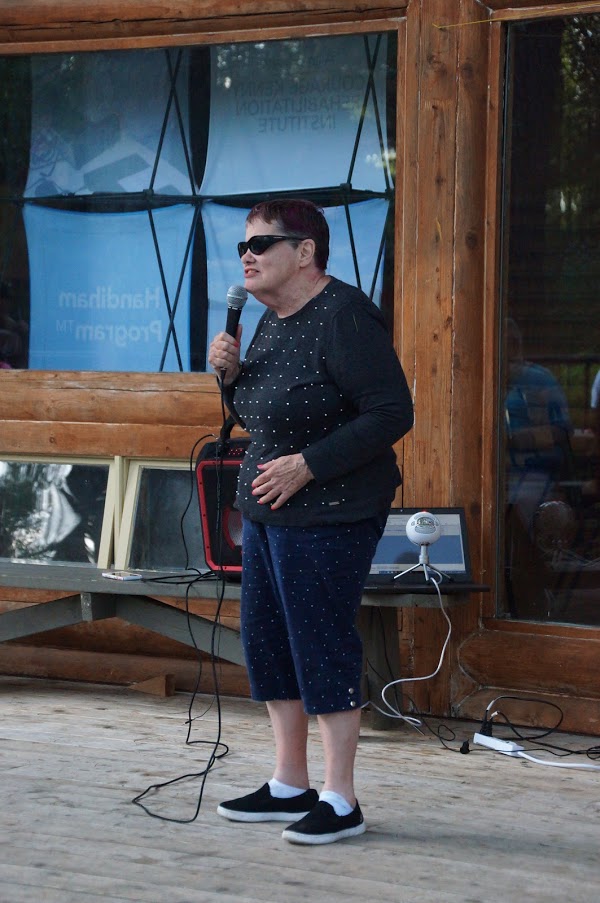 Many others participated in skits and songs, and Matt and Lynelle entertained us with their playing and singing.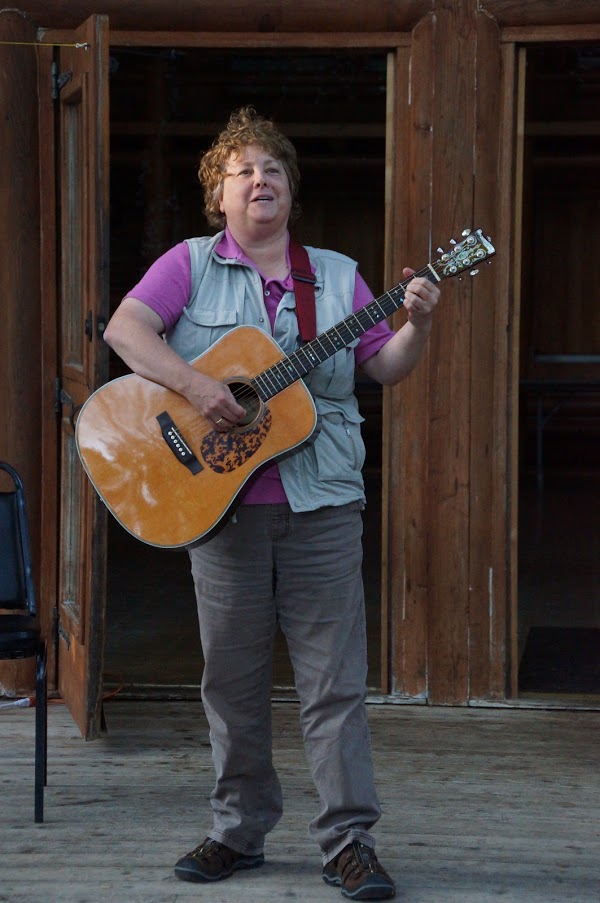 How did the test session turn out? Well, you will have to tune in next week to hear about all the new call signs and the award ceremony!
We got the first shipment of the special 2019 Radio Camp mugs in the office this week. Pemdy is getting them repackaged to be shipped out to members. They look great with the group photo from camp and the 2019 Radio Camp logo.
If you are having trouble receiving your E-Letter, you can always go to https://handiham.org/wordpress1/weekly-e-letter/ to see the latest E-Letter. Additionally, you can go to https://handiham.org/audio/handiham.mp3 to listen to the current podcast. These links are updated each time a new E-Letter and podcast is released.
Although my father is currently back in the hospital due to further complications following his heart attack in early July, I returned to Minnesota on Sunday. Thank you to everyone for your kind messages of prayers and concern for him.
Pemdy and I will be in the office during our usual hours next week. If you call the Handiham Program office, and we do not answer, please leave a message. When you leave that message, don't forget to leave your name, phone number, call sign, if you have one, and the reason for your call. Also, if you send an email, please include your name along with your call sign to speed up the response time. As always, if you need to update anything like your contact information, call sign, license class, membership, or members only log-in information, you can email us at handiham@allina.com.
In the E-Letter, there is an article with tips and tricks for the Be My Eyes App, another article about hams helping with a disaster in India, and the second of our interviews recorded during Radio Camp 2019. Of course, you can also find the regular articles you see here each week.
Do you have a story to share about assistive technology or ham radio related activities? Please send your articles and stories via email to Lucinda.Moody@allina.com or by calling me at 612-775-2290.
---
News in Assistive Technology
Some Be My Eyes Tips and Tricks
There are countless ways frequent users can integrate Be My Eyes into their daily routines. Here are a few examples of common ways people use the app.
• Finding lost or dropped items
For example: Where is the earring back I dropped on the bathroom floor? Where did I put that sports cap?
• Describing pictures, paintings or other artwork
For example: What does this sculpture depict? What are the colors or mood of this painting?
• Matching or explaining colors
For example: Does this shirt match my jacket? Which pair of shoes are the black ones?
• Reading labels on household products
For example: Is this window or bathroom cleaner? Shampoo or conditioner?
• Reading on computer screens if websites are inaccessible or screen readers are not available
For example: My laptop restarted unexpectedly – can you walk me through the login screen?
• Shopping in supermarkets
For example: Which kind of crackers am I buying?
• Identifying expiration dates on perishable food packages
No one wants to eat expired food…
• Familiarizing yourself with new places
For example: Is this the street I'm looking for? Where is the power outlet in this hotel room?
• Distinguishing between food items
For example: Black beans or green beans? Paprika or Cayenne?
• Finding out when public transportation (buses, trains, etc.) are departing or arriving
For example: How many minutes does the screen say I have until the next train arrives?
Be My Eyes calls are totally free and can be as long or short as you need. They just ask that you always be polite to their volunteers, but don't feel the need to make small talk unless you want to. As long as you have an internet connection, Be My Eyes can be used just as easily at home, work, or when you're out and about.
Safety Tips
Be My Eyes is built on kindness, empowerment and respect. Their goal is to provide the best visual assistance. Your safety is very important, and because you are in control of your Be My Eyes experience, there are certain safety steps that you should follow while using the app:
• Protect Your Personal Information
Please don't display or share any identification documents like passport, your personal address, social security number or other government-issued ID.
• Protect Your Financial Information
Never share credit card, bank/checking account, insurance or other financial information or passwords.
• Report all inappropriate or unsafe behavior
• Do not share information about your medication or health conditions
• Do not use Be My Eyes for anything that can put you in danger
Editor's Note: Thanks to Jerry, N0VOE, for sharing this information with us.
---
From the Mailbag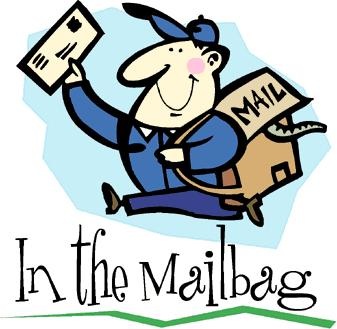 Hey Lucinda,

This Hiram Percy Maxim birthday celebration special event station looks like it might be interesting. I may just give it a try myself.
http://www.arrl.org/hpm150-birthday-celebration
Tom Behler, KB8TYJ
---
Dear Handiham Members,

Here's a link to my interview of Mike Duke K5XU, a professional broadcaster, 50 year Ham operator, and blind since birth:
https://www.icqpodcast.com/download-the-show/2019/7/21/icq-podcast-episode-299-mike-duke-k5xu
73,

Frank, K4FMH
Editor's Note: The interview with Mike is in the second hour of the podcast, and his story is really interesting. There is also a great plug for the Handiham Program in the podcast!
---
Lucinda,

"The Victorian Internet: The Remarkable Story of the Telegraph and the Nineteenth Century's On-Line Pioneers" is available as an audio book from the National Library Service for the Blind and Physically Handicapped. DB47958 It is the history of the invention of the telegraph, which was the technological marvel of its time. It describes how the machine changed the way the world operated, including its direct effects on warfare, espionage, and love affairs. The book also provides anecdotes about the inventors, hackers, and cheats.

73,

Ken, KB3LLA
---
Hi Lucinda,

I am looking for a DW12 Wall Adaptor for a Cherokee 6m handheld radio. If anyone has one sitting around that they are not using, please let me know.

Ty, N3FSQ
---
Interview of the Week
We recorded several interviews at the end of Radio Camp 2019. Please enjoy the second part with Linda Reeder, N7HVF, and Jennifer Thompson, KC9AGR.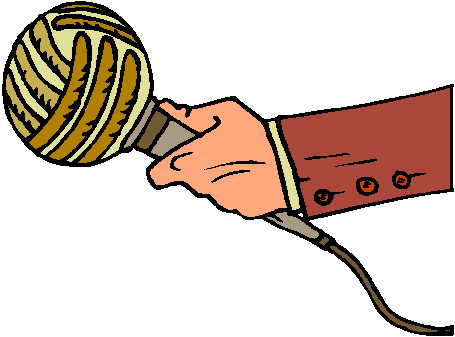 LR: I liked the pontoon boat.

LM: So, did you get to go on a lot of boat rides this week?

LR: I got to go three times. I wanted to go again, but the boat got too full.

JT: I got to go out once.

LR: I got to go out with one of the counselors, and he went fast!

LM: I know you like to go fast! You announced that before camp.

LR: I went out on Monday and today, but today the boat broke down. They were teasing me and saying I broke it! So, we did go fast, but there was something wrong, and they have to check it.

LR: I enjoyed doing the net. It was the Wednesday evening net. They asked me at the last minute, so I said I had to do one check-in at a time because I didn't have anything to braille on. I just had to do it because they couldn't find Doug. And the net went way past time because people kept saying they wanted to check in.

LM: Well, it is Handiham Radio Camp week, and we usually get a lot of check-ins that week.

LR: I would say we had at least 30 check-ins. So, I really enjoyed doing that. And then on Monday, Jennifer and I did the midday net together, and I got to talk to my friend in Salt Lake. She told me about the weather there, and it was hot—101 degrees! I told her about the weather here, because it has been cold at night, and she said she was jealous!

LM: We've had pretty good weather all week long!

LR: Yeah, we did, but the first day we got here, it was really cold. On Monday morning, it was about 50 degrees, and I was freezing, so they let us eat in the dining hall. I was really glad. Then it would warm up during the day. I told her I would rather keep the cold than have it that hot. So, that was fun doing the net.

LM: Jennifer, what else did you do on the lake?

JT: I went tubing.

LM: Why don't you describe that.

JT: Just to let you know, I didn't intend to go tubing because I didn't know they had the tube that held three people. And it has a back and sides on it.

LM: So, it's kind of like a big floating couch.

JT: Yeah, sort of like a raft. And, the other reason I didn't want to do it was because when I take my hearing aids out, I am basically deaf and can't hear much of anything. So, my friend Jeannie, who used to volunteer up here as a nurse, said she would go with me. So, I said I would do it.

JT: Naomi asked if I wanted to go fast or slow. I said I wanted to go fast, and we were bouncing up and down! It was fun!

LM: And you went out on something else on the water.

JT: Oh, on the watermat.

LM: So, tell us about that.

JT: Oh, wow. First of all, we kept swimming and swimming. And thank goodness for the lifejacket, because I can't swim. I kept asking where the watermat was, and I thought I heard them say that the wind was blowing it away.

JT: Then, they had to help me get up on top because I don't have really good upper body strength. Two of the camp staff helped get me up on the mat. Then getting back into the boat, you had to get way out of the water to get onto the ladder.

JT: First, I started laughing. I do that when I get nervous. So, I pretty much had to pull myself out of the water. I managed to get back into the boat, but I said I could never do that again. I never could do the pull-ups at school either, and this was kind of like that.

JT: But the watermat was interesting. I had never heard of it or even knew it existed. It kind of reminds me of the material the pool noodles are made of, but it is kind of shaped like a raft. And it has a rope on one side.

JT: I went swimming today. Diane was going swimming, so I went too. I was in the shallow area, and I was kicking and moving my arms, and my neck and arms got sore because I am using muscles I am not used to using. And a few times, I was breathing hard and realized I am out of shape.

JT: So, hopefully I burned off some of the calories I have been eating today, especially the pie from lunch.

LM: We had an amazing test session this morning, and to celebrate, we had fresh blueberry pie from the local blueberry festival for lunch today.

LR: They had peach pie, so that's what I had.

LM: So, what else happened this week? We had some pretty nice camp fires.

JT: Oh, yeah. I enjoyed the singing.

LR: Yeah, I did too.

LM: Tell us about the singing.

JT: I enjoyed Matt very much, but Zach surprised us first of all. I don't know where he's been hiding, but we found out he can actually sing!

LM: Zach is the manager here at Camp Courage North.

JT: He can sing, and he can play the guitar. And Lynelle, boy can she rock on that mandolin! And she sings, and boy does she do good!

LM: Yep. We will get Matt and Lynelle over here next.
Stay tuned next week for more interviews from Radio Camp!
---
Ham Radio in the News
Radio Amateurs in India Support Rescue and Relief Operations in Wake of Flooding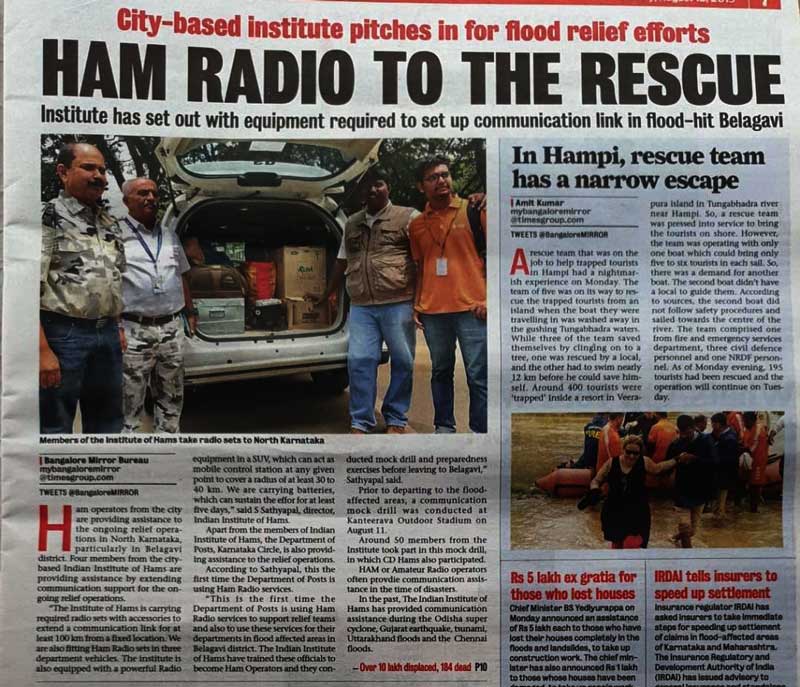 Hams in India are providing communications support after heavy rains and flooding. The hams are monitoring to assist the government speed rescue and relief teams as they reach stranded communities. In addition, three radio-equipped vehicles are also supporting rescue efforts. You can read more at http://www.arrl.org/news/radio-amateurs-in-india-support-rescue-and-relief-operations-in-wake-of-flooding
---
A Dip in the Pool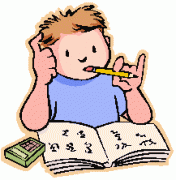 It's time to test our knowledge by taking a dip in the question pool…
Let's go to the Extra Class pool this week to a question about FM phone signals:
E4C03 asks: What is the term for the blocking of one FM phone signal by another, stronger FM phone signal?
Possible answers are:
A. Desensitization.
B. Cross-modulation interference.
C. Capture effect.
D. Frequency discrimination.
One interesting property of FM receivers is their ability to hear only the strongest incoming FM signal. If a distant station is on the same frequency, the stronger local station will be what you hear from your receiver. The strong station is said to be capturing your receiver, making answer C the correct choice. Interestingly, this is the reason AM is still used in aircraft VHF radio, just to avoid the capture effect.
---
Website Update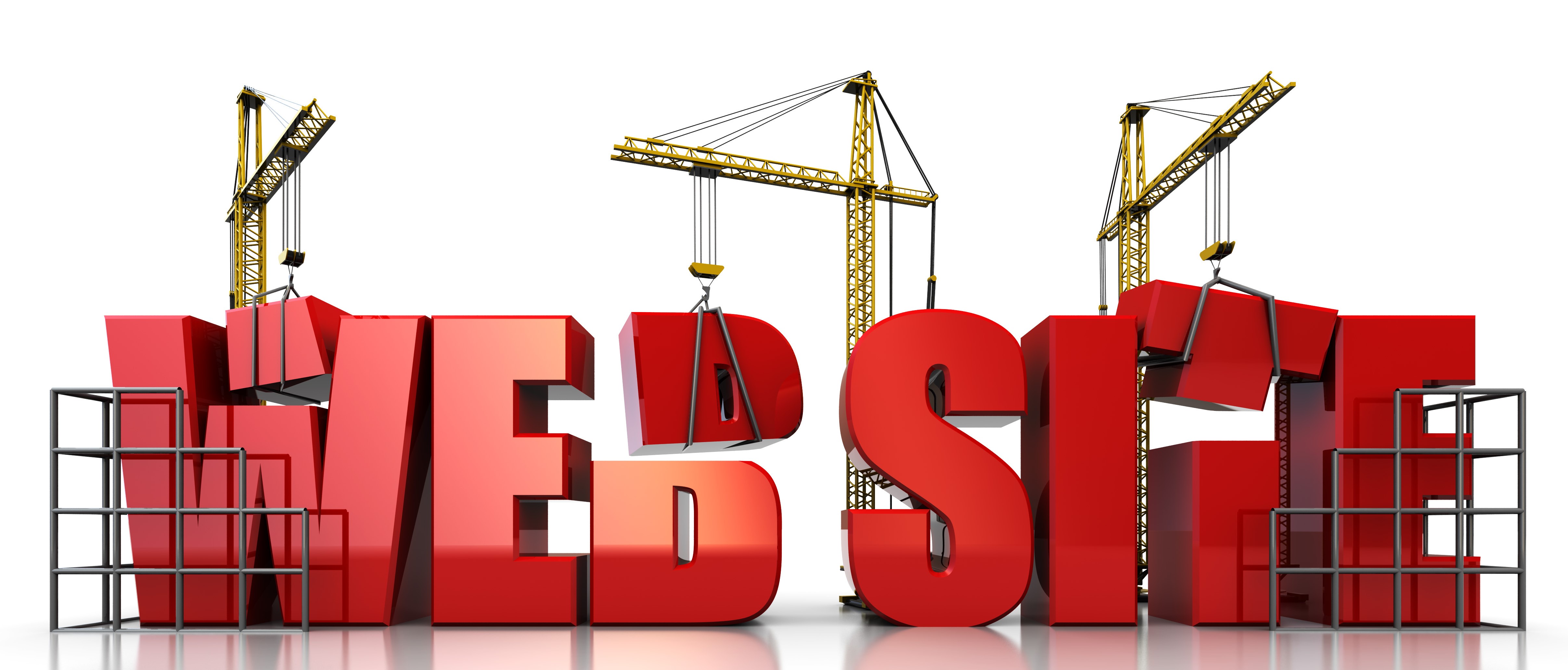 Here are the latest updates on the new Handiham.org website. Don't forget to monitor the site for updates throughout the week. When changes are made, I will post to the website. You can also find the latest updates any time by going to https://handiham.org/wordpress1/website-updates/. If you have any feedback about the website, I would love to hear from you. If you are a current member and your credentials are not allowing you to login to the site, please contact Pemdy for assistance at handiham@allina.com or 612-775-2291.
The August issue of CQ Magazine is available in Mp3 audio in the magazines and newsletters section of the members only website.
---
Equipment Connection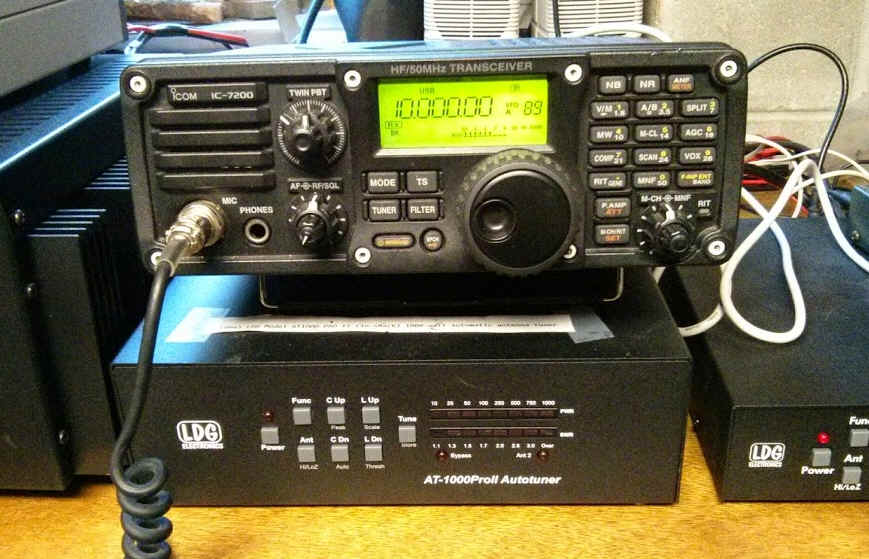 Equipment connections are happening, and the list is open! If you have a request for the Equipment Connection, contact me, leaving your name and phone number. I will call you to discuss your request. Please note that it may take several days for a return call due to all the other things going on in the Handiham Program. If you don't hear back from me after two weeks, you may contact me a second time. Additionally, if you have received any equipment from the Handiham Program during the last 12 months, you will automatically be placed at the bottom of the list so that others can also participate in the Equipment Connection.
Many thanks to the numerous people who have offered equipment for Handiham Members. If you have equipment that you would like to donate to a Handiham Program member, please email Lucinda at Lucinda.Moody@allina.com or call 1-612-775-2290.
---
Help Needed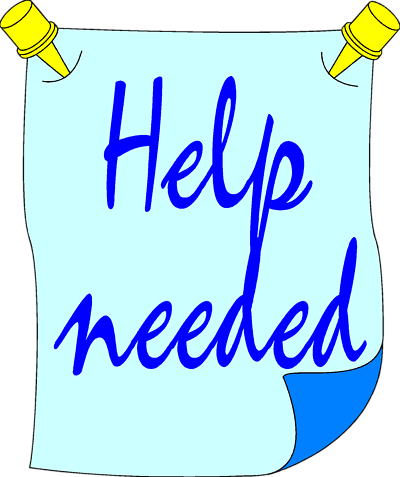 The Handiham Program needs contributors to Handiham World. Do you have a particular interest in amateur radio that you would like to share with others? Maybe you have a particular mode or band you like to operate and have learned a lot about. Or maybe you have some great stories to share from your experiences in the amateur radio hobby. Put your writing skills to work for Handiham World by sending your submissions to Lucinda.Moody@allina.com.
We are always looking for more readers, including some with a background in teaching in STEM related fields, especially if you have also worked with students requiring accommodations. We also need some readers with a background in teaching in STEM related fields, especially if you have also worked with students requiring accommodations. This volunteer position requires you to use your own equipment to record, however, we will provide the reading materials. If you or someone you know would like to try reading material for the members only section, please contact me for more information on how to submit a demo recording.
We need help updating our available resources for members. If you are blind and enjoy using your ham radio or assistive technology related devices, your assistance is especially needed. It would be a big help to your fellow Handiham Members if you would record a tutorial or product review. These need to be sent in Mp3 format, and the Handiham Program reserves the right to edit the recordings as needed before publishing in the Members Only section of the Handiham.org website. Please contact me at Lucinda.Moody@allina.com or 612-775-2290 if you have any questions.
I want to say a big thank you to those who have made or volunteered to make tutorials for the Members Only portion of the website. We have already had a number of members step up to offer their services, and their help is greatly appreciated! We also have some new readers who are working on some books, so keep watching for website updates as we add more content.
---
Check into our Handiham nets… Everyone is welcome!
How to find the Handiham Net:
The Handiham EchoLink conference is 494492. Connect via your iPhone, Android phone, PC, or on a connected simplex node or repeater system in your area.
The Handiham DMR Talkgroup on Brandmeister is 31990. On AllStar, it is available at node 47367.
The Handiham Net will be on the air daily. If there is no net control station on any scheduled net day, we will have a roundtable on the air get-together.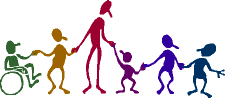 Our daily Echolink net continues to operate for anyone and everyone who wishes to participate at 11:00 hours CDT (Noon Eastern and 09:00 Pacific), as well as Wednesday evenings at 19:00 hours CDT (7 PM). If you calculate GMT, the time difference is that GMT is five hours ahead of Minnesota time during the summer.
Doug, N6NFF, poses a trivia question in the first half of the Wednesday evening session, so check in early if you want to take a guess. The answer to the trivia question is generally given shortly after the half-hour mark. A big THANK YOU to all of our net control stations.
---
Membership
You can pay your Handiham dues and certain other program fees on line. Simply follow the link to our secure payment site, then enter your information and submit the payment.

Handiham annual membership dues are $12.00. The lifetime membership rate is $120.00.
MEMBERSHIP DUES PAYMENT LINK
If you want to donate to the Handiham Program, please use our donation website. The instructions are at the following link:
DONATION LINK
As always, while our other services require that you have a current Handiham Program membership, you do not have to be a member to receive the Handiham World E-Letter.
How to contact us
There are several ways to contact us.
Postal Mail:
Courage Kenny Handiham Program
3915 Golden Valley Road MR 78446
Golden Valley, MN 55422
E-Mail: handiham@allina.com
Preferred telephone: 1-612-775-2291
Toll-Free telephone: 1-866-HANDIHAM (1-866-426-3442)
Note: Mondays through Thursdays between 9:00 AM and 2:00 PM United States Central Time are the best times to contact us.
You may also call Handiham Program Coordinator Lucinda Moody, AB8WF, at: 612-775-2290.
73, and I hope to hear you on the air soon!
For Handiham World, this is Lucinda Moody, AB8WF
The weekly e-letter is a compilation of assistive technology, operating information, and Handiham Program news. It is published on Wednesdays, and is available to everyone free of charge. Please email handiham@allina.com for changes of address, unsubscribes, etc. Include your old email address and your new address.
Podcast: Play in new window | Download