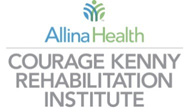 Courage Kenny Rehabilitation Institute Handiham World E-Letter for the week of March 28, 2022
This is a free news and information update from the Courage Kenny Handiham Program, serving people with disabilities in amateur radio since 1967.
Our contact information is at the end.
Listen here:
https://handiham.org/audio/handiham28MAR2022.mp3

Get this podcast in iTunes:
https://itunes.apple.com/us/podcast/handiham-world/id1457854439?mt=2&app=podcast
RSS feed for the audio podcast if you use other podcasting software:
https://handiham.org/wordpress1/feed/podcast/
Subscribe or change your subscription to the E-mail version here.
---
Welcome to Handiham World.
In this edition:
A note from the coordinator
News in Assistive Technology
From the Mailbag
Interview of the Week
Ham Radio in the News
A Dip in the Pool
Website Update
Equipment Connection
Help Needed
Check into our nets!
…And more!
---
A note from the coordinator…
We received some good news this week regarding the new FCC fees that will be implemented on April 19th. The fees will not apply to license upgrades but will still apply for new license applications, renewals, vanity call sign applications, and club applications and renewals. Address changes will not require a fee. To pay the new fee, the FCC will send a link, giving applicants 10 days to pay, before they process the application. For new Technician applicants who are under the age of 18, the ARRL approved the Youth Licensing Grant Program to cover the initial FCC fee in addition to providing a reduced test session fee of $5.00 with the ARRL VEC.
In August, from the 8th through the 14th, we will be taking time to celebrate the 55th Anniversary of the Handiham Program during a weeklong virtual event. We will get to hear from numerous people who have participated in the Handiham Program over the years, attend classes in amateur radio operating skills, and get on the air for a special Handiham 55th Anniversary QSO Party. We look forward to having everyone join us for this very special week!
On the weekend of Friday, April 29th through Sunday May 1st, we will hold a special event station honoring 55 years of serving people with disabilities in the amateur radio hobby. Last year, lots of contacts were made celebrating Handiham 54, and we hope that this year will be even bigger. Listen out for CQ Handiham 55 on phone and CW!
Are you planning to attend Dayton Hamvention this year? It's been a long time since the last one was held in 2019! The Handiham Program will have a booth again, and we are looking forward to seeing everyone there from May 20 – 22. We will have several volunteers helping out, and attendees will have the opportunity to see demonstrations of accessible radio equipment throughout the event. We look forward to visiting with everyone at Hamvention, so be sure to stop by the Handiham booth.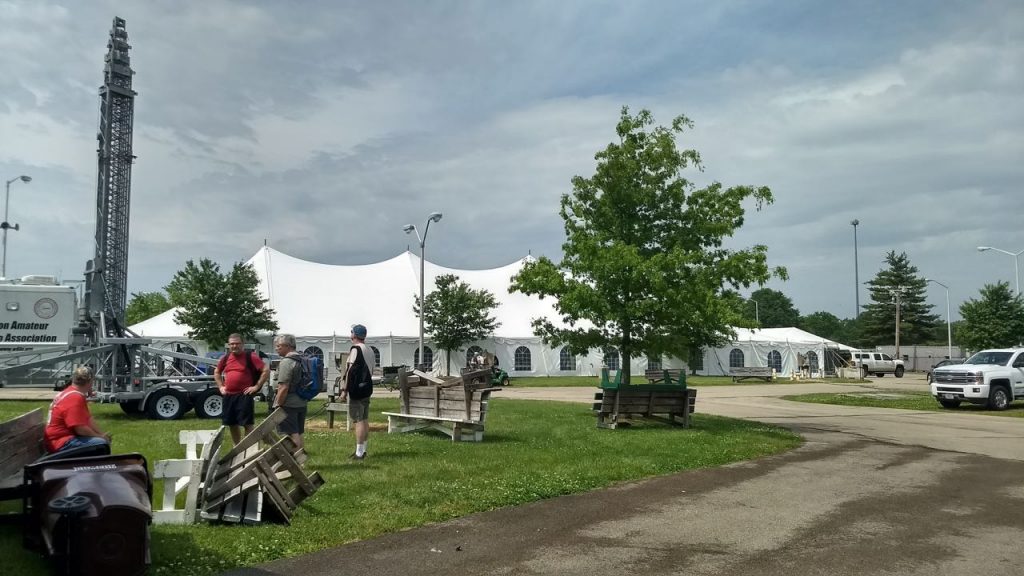 Due to ongoing problems with the Handiham AllStar and DMR setup, please use alternate ways to connect to the Handiham Radio Club nets. The best way is via Echolink. We are thankful for some very helpful volunteers who are working on finding a solution to these issues and hope to have it up and running soon.
The Extra Class is on week ten, starting modulations, protocols and modes. We will cover everything but the video modes, which will be in next week's class. There is a lot to cover each week to get through all the material included in the Extra Class exam, and just reviewing all the questions covered so far takes a few hours now. If you are just getting started in the ham radio hobby, we will be running a two-semester virtual Technician class starting this fall. You can contact Pemdy for an application.
The Intermediate Morse Code class is on week 6 now, and the class is getting more challenging as we increase the code speed up to 10 words per minute this week. For this class, students work on improving their ability to copy and send, increasing their speed from around 5 words per minute to 13 words per minute. Students attend an interactive Zoom class once weekly, utilize practice recordings, and schedule one-on-one practice times with instructors. If this class sounds too advanced for you, the next virtual Basic Morse Code class is planned to start in September. You can reach out to Pemdy for an application if you are interested in joining us.

While we continue to work remotely, we still check our phone messages and return phone calls, and mail is picked up regularly. Of course, the best way to get in touch with us is via email.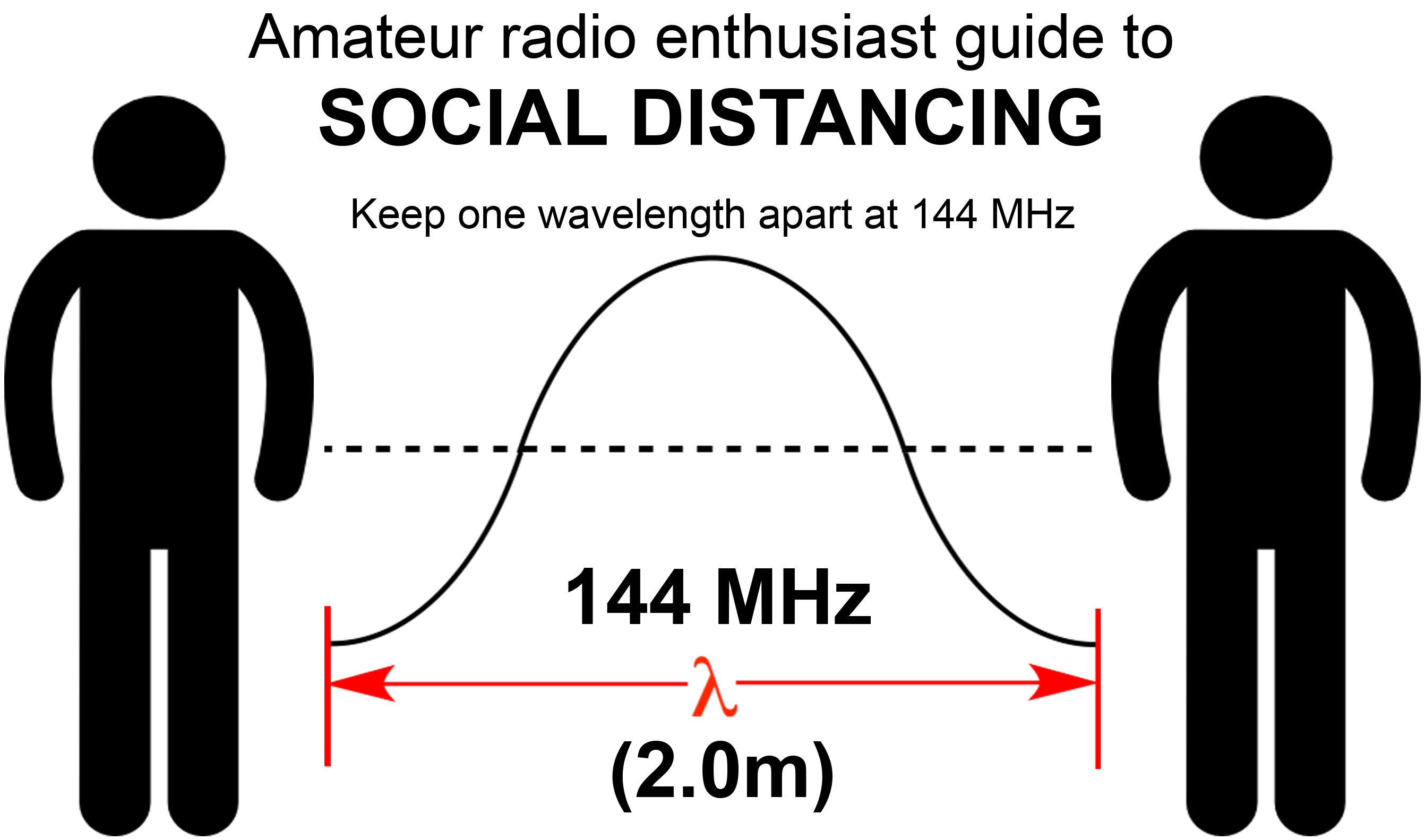 Along with the release of the new On the Air magazine, the magazine for beginner-to-intermediate ham radio operators, the ARRL is also doing a monthly podcast to take a deeper look at some of the topics and projects included in the magazine. The latest episode of the On the Air podcast (Episode 27) takes an in-depth look at the 10 meter band. You can check it out at http://www.arrl.org/on-the-air-podcast.
If you are having trouble receiving your E-Letter, you can always go to https://handiham.org/wordpress1/weekly-e-letter/ to see the latest E-Letter. Additionally, you can go to https://handiham.org/audio/handiham.mp3 to listen to the current podcast. These links are updated each time a new E-Letter and podcast is released.
Pemdy and I will be working during our usual office hours next week. If you call the Handiham Program office, please leave a message, and we will return your call as soon as we are available. When you leave that message, don't forget to leave your name, phone number, call sign if you have one, and the reason for your call. Also, if you send an email, please include your name along with your call sign, and the reason for your email to speed up the response time. As always, if you need to update anything like your contact information, call sign, license class, membership, or members only log-in information, you can email us at handiham@allina.com.
In the E-Letter, there is an article about Feeldom bags, another article about the importance of ham radio, and the next part of the 2021 Gratitude Gathering. Of course, you can also find the regular articles you see here each week.
Do you have a story to share about assistive technology or ham radio related activities? Please send your articles and stories via email to Lucinda.Moody@allina.com or by calling me at 612-775-2290.
---
News in Assistive Technology
Feeldom Bags
For people with disabilities, bags often leave users frustrated and disappointed. To address this problem, Feeldom developed bags specifically for wheelchair users and people who are blind or visually impaired. The products are handmade and carry a three-year warrantee. Feeldom's innovative bags help people with disabilities lead a more comfortable and mobile life, with quality being the highest priority. To learn more about Feeldom, you can check out the following article at: https://newmobility.com/one-bag-for-all/.
You can also watch a video at: https://youtu.be/jPAEuNNrjps.
---
From the Mailbag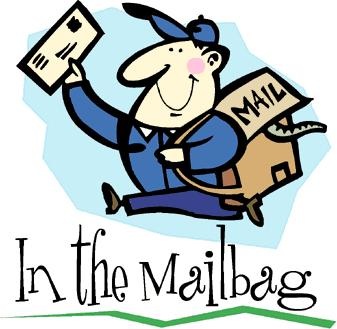 The mailbag was quiet this week. Maybe lots of people are busy studying!
---
Interview of the Week
Last November, we held our second annual Gratitude Gathering, getting together to share what we are thankful for in the amateur radio hobby. Please join me for the next part of this interview.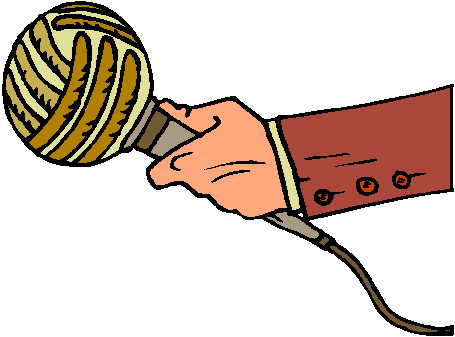 LM: Michael, W7ALX, go ahead.

MP: Good afternoon, Lucinda. Can you hear me?

LM: I sure can.

MP: Okay. Good afternoon to all. Let's see, where do I start? I was first licensed–well, first of all, I'm from Hawaii. I was licensed back in the early 70s. However, I was going off to college, I went to college on a wrestling scholarship to the University of Hawaii. And that kept me busy along with the music. I was a performer playing in a nine piece band that traveled all over the South Pacific and over into the Orient. And so I kind of let the radio, ham radio, part of my life, kind of put it on the back burner for a while.

MP: However, in 2007, I became licensed again, thanks to the Handiham Program. And I'm awfully grateful one of my Elmers was Matt, KA0PQW, I think is his call. And he guided me to those kind of treacherous days they call it. However, out of that, in 2007 I got my Tech license, and then went on to get my–a couple months later, both my General and my Extra Class. What I'm grateful for is that there's an organization like this, that enables those with a disability, whatever it is, and might be gives them the opportunity to experience things that they normally wouldn't have been able to experience and give them a platform to come and share their experiences with others that have–you'll have the same, not handicap but disability.

MP: What I'm grateful for is also back in 2010, I became involved with the ACS. I don't know if you're familiar with that. I'm a director for emergency communications for the city that I live in. ACS is the auxiliary communications emergency service, and our service agency is the sheriff's department here in the county. And thanks to the city–very generous–the trailer that we have all of the gear in–first of all, I have to explain that we live–I'm only a block and a half from the ocean. Depoe Bay is known as the smallest navigable harbor in the world. It's also the whale-watching capital here. So, it was decided that we would have a mobile unit that would double both as emergency communications and also the EOC. In the event that we have to stage it at some other location other than City Hall is where we keep the trailer, but all the radios in the trailer that I'm responsible for all talk.

MP: And so, I know that there's a lot of folks here that are familiar with the Kenwood products that we use in there. For HF, we have a 480 and also the TM-V71 and also the TM-D710A. And so, I've been the director for the program here in this city, and I have a great team. And we, of course, we have the emergency nets that we do. We also, I'm able to participate, I also direct them too–fieldwork, we go into full deployment. So, a lot of the things that I do and that I train the team and I have to do–be able to do myself. So, all of the gear that I carry, it all has to be back packable–no computers in the field. So, everything is hand programmed. I teach them how to hand program their the radios in the field. And also, we do both Winlink, APRS, and there's two digital voice modes that we use here in the county, that would be D-STAR as well as Fusion radio. So, it keeps me quite busy.

MP: I'm really grateful that Pemdy–thank you very much for extending the invitation to come. And today happened to be one of those days where I have other operators who are doing the radio guard for me today, so it gave me opportunity to come. But thank you so much. And it's so good to hear all the voices. I used to check into the–it's 9 AM our time–it's 11:00. The Handiham net, but by then I have all these other things that they have to do for the city. And right now, we're preparing for the Cascadia Rising exercise. And for us, we are going to be working with both the federal military, as well as using the Shares Network for communications, also, so it keeps me busy to get the team ready to go out with that, so, with that event. Anyway, thank you again for having me. And I'll turn it back to you, Lucinda. Thank you very much. And 73 y'all, y'all have a good rest of the weekend.

LM: Thanks, Michael. And yeah, Matt has Elmered and a lot of people from over the years, which I think is really important. It's one of the neat things about the ham radio hobby is that we help each other out and kind of pass the information along. So, that's a good thing. Next up here, let's go to Bob White, go ahead.

BW: Okay, hi, it's Bob here, WB2BYL. As you can tell from my call, I've been licensed since the late 60s–1967, to be precise. I'm not super-active in ham radio, but you know, there's a place for people like me in the in the group. First, I'll just share some of my-a few points about my ham radio experience. A few weeks ago, you you posted a letter by a guy named Pete, K1PXE, who knew Bob Gunderson, who taught at the New York Institute for the Blind. I went to that school, and I knew Bob. So, I took classes with him, and he's the one that got me into ham radio.

BW: And then even later in the late, I believe it was 1979 at an alumni reunion, he set up a Field Day station there with a, you know, generator and the whole bit in one of the gazebos there. We had a VHF and an HF setup. So, that was a lot of fun. When I was in college in the early 70s, we had a station there at the University of Rochester called K2ZWI, and that's where I got a chance to work stations all around the world. We were in a good part of the sunspot cycle. I just got on, and people just came back. It was amazing. I couldn't–it was like almost talking to somebody across the street at that time.

BW: Public service wise, I was involved in a walk-a-thon. I was assigned to the refreshment vehicle, we, our car was in charge of taking the refreshments to the various checkpoints. So, we were in very high demand. And people were very glad to see us, and I had my little HT in the car with a 16 year old driver. And so, you know, he'd probably just gotten his license or something. But again, he was involved in public service, and we were both doing something to raise money for, I forget which charity it was, but we were involved in the walk-a-thon.

BW: And then most recently, I got acquainted with Handihams. I came up to the camp in 2019 and met a really a lot of nice people, and I'm glad to have been able to do that. I am a life member of Handihams. And that's, I'm glad to be involved with that. So back to you. Thank Lucinda, Pemdy, and pass along also my thanks to the people at Allina, the parent organization that continues to sponsor this program. A lot of the agencies are cutting back on what they consider to be, I don't know, unnecessary programs, but they continue to sponsor this this organization, so thank them as well. That's it. Back to you, Lucinda.

LM: Thanks, Bob, and we will pass your thanks along. We are grateful for Allina continuing to host our program at Courage Kenny Rehabilitation Institute. And you're right, there's a lot of organizations that have gone by the wayside, and thankfully, we're not one of them. And we're grateful to be able to continue to do the work that we do and continue to spread the fun of the ham radio hobby for people with disabilities.
Stay tuned for the next part of this interview airing in the next issue of Handiham World.
---
Ham Radio in the News
Ham Radio Provides Important Service
With all the modern communications devices, ham radio continues to provide an important service. During emergencies when infrastructure is impacted, ham radio provides reliable communications in uncertain circumstances. Ham radio operators know how to use back-up power sources and how to quickly put up antennas to get on the air when needed. To read the complete article, go to: https://www.thederrick.com/free/operator-says-ham-radio-provides-important-service/article_09f2733e-b27f-11ec-8d3d-2b7eff65bbbd.html.
---
A Dip in the Pool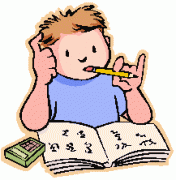 It's time to test our knowledge by taking a dip in the question pool…
Let's go to the Technician Class pool this week to a question about keyers.
T8D14 What is an electronic keyer?
A. A device for switching antennas from transmit to receive.
B. A device for voice activated switching from receive to transmit.
C. A device that assists in manual sending of Morse code.
D. An interlock to prevent unauthorized use of a radio.
With a straight key, you must form every dot and dash manually. That usually limits your speed to about 25 words per minute. An electronic keyer makes it a lot easier by forming strings of perfectly timed dots and dashes, depending on which direction you move a paddle or pair of paddles. This makes answer C the correct choice. Additionally, because keyer paddles use a side-to-side motion, you have a lot less wear and tear on your wrists. There are a variety of paddles and associated electronics available, and going to a large event like Dayton Hamvention gives you an excellent opportunity to check them out. There are also semi-automatic mechanical keyers, known as bugs, which are still quite popular among serious CW operators.
---
Website Update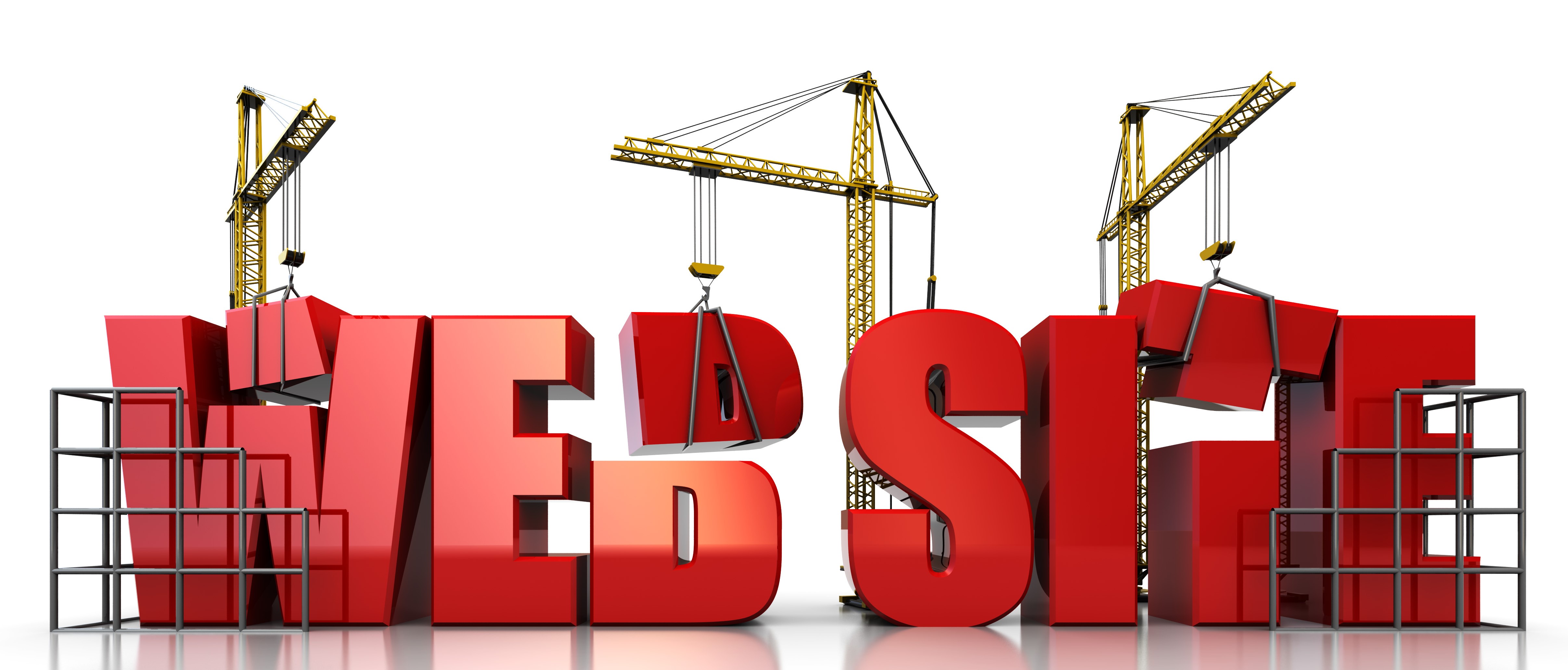 Here are the latest updates on the Handiham.org website. If you have any feedback about the website, I would love to hear from you. If you are a current member and your credentials are not allowing you to login to the site, please contact Pemdy for assistance at handiham@allina.com or 612-775-2291.
The April issue of the QCWA Journal is now available in Mp3 format in the Magazines and Newsletters section of the Members Only website.
---
Equipment Connection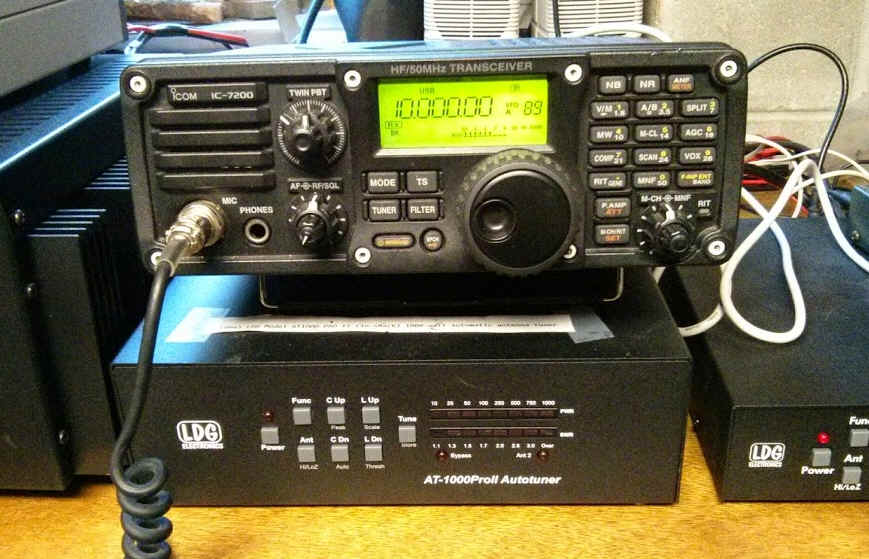 Equipment connections are happening, and the list is open! If you have a request for the Equipment Connection, contact me, leaving your name and phone number. I will call you to discuss your request. Please note that it may take several days for a return call due to all the other things going on in the Handiham Program. If you don't hear back from me after two weeks, you may contact me a second time. Additionally, if you have received any equipment from the Handiham Program during the last 12 months, you will automatically be placed at the bottom of the list so that others can also participate in the Equipment Connection.
Many thanks to the numerous people who have offered equipment for Handiham Members. If you have equipment that you would like to donate to a Handiham Program member, please email Lucinda at Lucinda.Moody@allina.com or call 1-612-775-2290.
---
Help Needed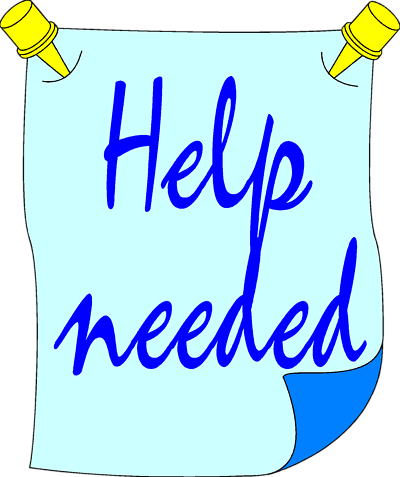 The Handiham Program needs contributors to Handiham World. Do you have a particular interest in amateur radio that you would like to share with others? Maybe you have a particular mode or band you like to operate and have learned a lot about. Or maybe you have some great stories to share from your experiences in the amateur radio hobby. Put your writing skills to work for Handiham World by sending your submissions to: Lucinda.Moody@allina.com.
We are looking for instructors for both operating skills and licensing classes. A background in teaching is not required. We have veteran instructors who are willing to mentor new teachers. Classes take place during the fall and spring semesters via Zoom. We have a group of instructors for each class, so you do not have to be available during every week of the semester. If you are interested in helping, please contact Lucinda.
We are always looking for more readers, including some with a background in teaching in STEM related fields, especially if you have also worked with students requiring accommodations. We also need some readers with a background in teaching in STEM related fields, especially if you have also worked with students requiring accommodations. This volunteer position requires you to use your own equipment to record, however, we will provide the reading materials. If you or someone you know would like to try reading material for the members only section, please contact me for more information on how to submit a demo recording.
We need help updating our available resources for members. If you are blind and enjoy using your ham radio or assistive technology related devices, your assistance is especially needed. It would be a big help to your fellow Handiham Members if you would record a tutorial or product review. These need to be sent in Mp3 format, and the Handiham Program reserves the right to edit the recordings as needed before publishing in the Members Only section of the Handiham.org website. Please contact me at Lucinda.Moody@allina.com or 612-775-2290 if you have any questions.
---
Check into our Handiham nets… Everyone is welcome!
How to find the Handiham Net:
The Handiham EchoLink conference is 494492. Connect via your iPhone, Android phone, PC, or on a connected simplex node or repeater system in your area.
The Handiham DMR Talkgroup and AllStar are not working at this time. Stay tuned for future updates.
The Handiham Net will be on the air daily. If there is no net control station on any scheduled net day, we will have a round table on the air get-together.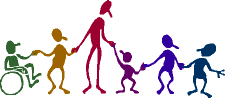 Our daily Echolink net continues to operate for anyone and everyone who wishes to participate at 11:00 hours CDT (Noon Eastern and 09:00 Pacific), as well as Wednesday evenings at 19:00 hours CDT (7 PM). If you calculate GMT, the time difference is that GMT is five hours ahead of Minnesota time during the summer.
Linda, N7HVF, poses a trivia question in the first half of the Wednesday evening session, so check in early if you want to take a guess. The answer to the trivia question is generally given shortly after the half-hour mark. A big THANK YOU to all our net control stations.
---
Membership
You can pay your Handiham dues and certain other program fees on line. Simply follow the link to our secure payment site, then enter your information and submit the payment.

Handiham annual membership dues are $15.00. The lifetime membership rate is $150.00.
MEMBERSHIP DUES PAYMENT LINK
If you want to donate to the Handiham Program, please use our donation website. The instructions are at the following link:
DONATION LINK
As always, while our other services require that you have a current Handiham Program membership, you do not have to be a member to receive the Handiham World E-Letter.
How to contact us
There are several ways to reach us.
Postal Mail:
Courage Kenny Handiham Program
3915 Golden Valley Road MR 78446
Golden Valley, MN 55422
E-Mail: handiham@allina.com
Preferred telephone: 1-612-775-2291
Toll-Free telephone: 1-866-HANDIHAM (1-866-426-3442)
Note: Tuesdays through Thursdays between 9:00 AM and 3:00 PM United States Central Time are the best times to contact us.
You may also call Handiham Program Coordinator Lucinda Moody, AB8WF, at: 612-775-2290.
73, and I hope to hear you on the air soon!
For Handiham World, this is Lucinda Moody, AB8WF
Handiham World is a compilation of assistive technology, operating skills, and Handiham Program news. It is published as a bi-weekly podcast and a brief update is released on the opposite weeks. Handiham World is available to everyone free of charge. Please email handiham@allina.com for changes of address, unsubscribes, etc. and include both your old and new email address.
Podcast: Play in new window | Download