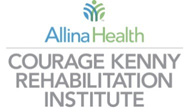 Courage Kenny Rehabilitation Institute Handiham World Weekly E-Letter for the week of Wednesday, July 18, 2018
This is a free weekly news & information update from the Courage Kenny Handiham Program, serving people with disabilities in Amateur Radio since 1967.
Our contact information is at the end.
Listen here:
https://handiham.org/audio/handiham18JUL2018.mp3
Get this podcast in iTunes:

RSS feed for the audio podcast if you use other podcasting software:
http://feeds.feedBurner.com/handiham
Subscribe or change your subscription to the E-mail version here.
---
Welcome to Handiham World.
In this edition:
A note from the coordinator
News in Assistive Technology
From the Mailbag
Interview of the Week
Ham Radio in the News
Website Update
Equipment Connection
Help Needed
Check into our nets!
…And more!
---
A note from the coordinator…
Our new Handiham Program display arrived this week. Thanks to Pemdy, who is an avid photographer, we have a great photo of the display to share with you.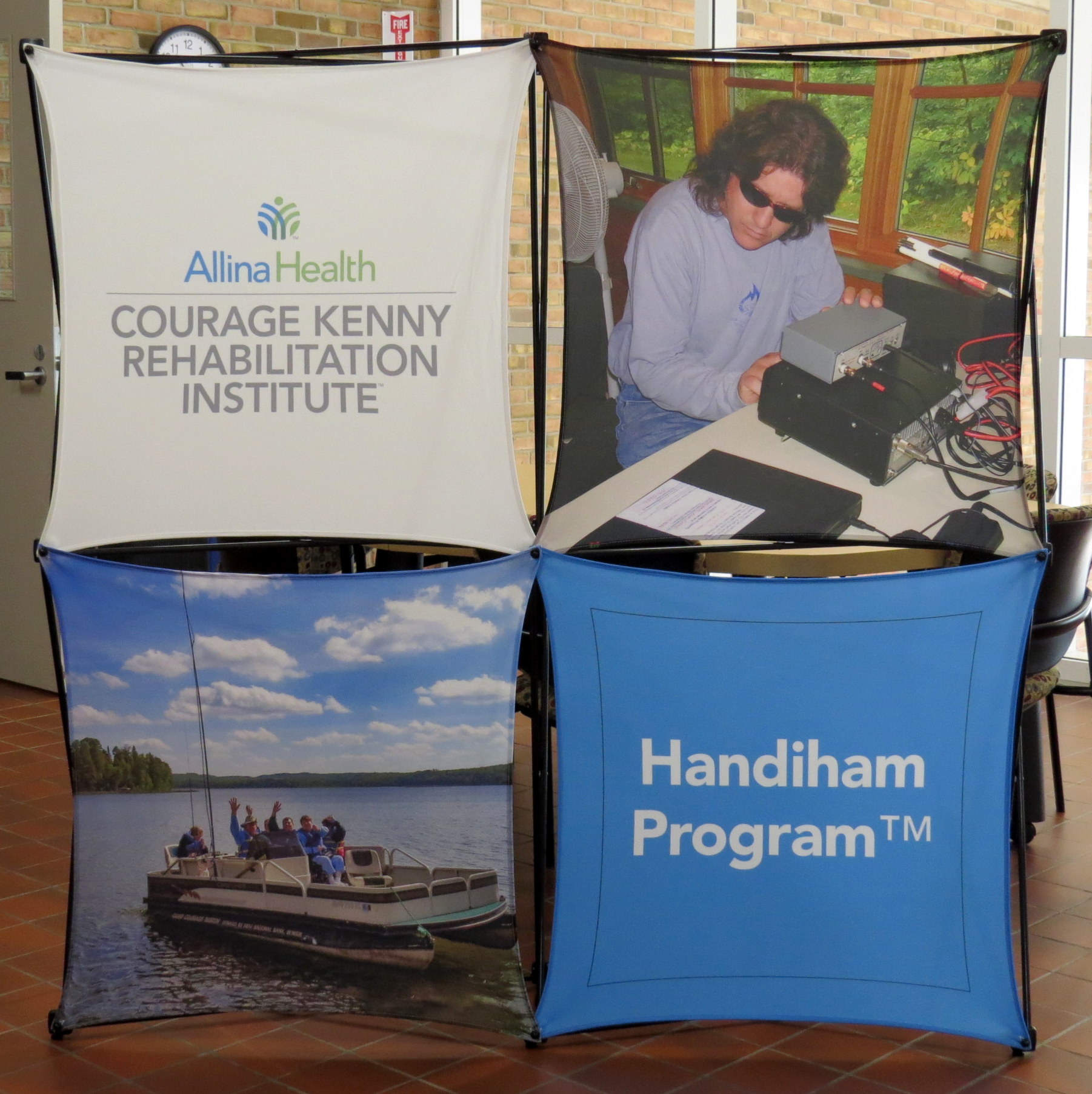 I am finalizing the details for the Amateur Radio and Assistive Technology Conference this week, so look for an announcement next week. If you think you want to attend, you can contact Pemdy to be placed on the list for an application.
Pemdy and I will be in the office during our usual hours next week. We have been getting a lot of phone calls lately, so, if you call and get our voicemail, please leave a message. Because our Handiham Program crystal ball is not functioning, please leave your name and phone number when you leave a message. We will get back to you as soon as possible. Don't forget, if you need to update anything like your contact information, call sign, license class, membership, or members only log-in information, you can email us at handiham@allina.com.
In the E-Letter this week, we have added a new section where information from members can be posted. There is information about Music Link Ear Hooks, an article about the new General Chairman for Hamvention 2019, and the first part of an interview with John Farina, W2QCY. Of course, you can also find the regular articles you see here each week.
Do you have a story to share about assistive technology or ham radio related activities? Please send your articles and stories via email to Lucinda.Moody@allina.com or by calling me at 612-775-2290.
---
News in Assistive Technology
Music Link Ear Hooks
Music Link is an alternative way for people with hearing loss to hear loud, clear audio. It can be used with smart phones, Mp3 players, or a computer soundcard. There is no feedback or distracting background noise. You can learn more at the following website: http://www.tecear.com/Music_Link.htm
---
From the Mailbag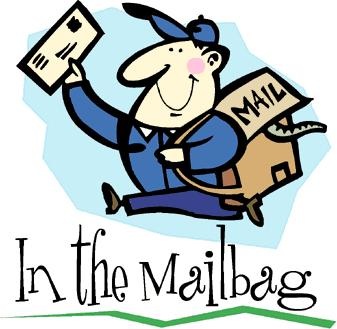 Kelly Stanfield, W0YQG, sent this link for a CW contest taking place this weekend. Check it out at: https://g4foc.org/Bug-Day
Pat Gormley, KK3F, sent information about some interesting propagation:
Sporadic E has been happening quite often in June. Around Field Day we had a spike in the A and K indices which diminished band conditions on the higher bands for Field Day. Also, according to a friend of mine who migrated up from Silver Spring to Frostburg, he indicated that two large meteorites have landed one in the Pacific Ocean and the other in Zimbabwe. I can also tell you I'm located at the second highest point in Frostburg, and I have a Bose in my bedroom which is ideally suited for listening for FM terrestrial DX. My height above average terrain is 2,100 feet, and I've heard FM stations in Tulsa Oklahoma, Central Florida, and Galax, Virginia, which is about 400 miles from here. I called CQ on 10 meters, and I ended up dealing with a 15-station pileup. Also, I've heard weather for Fenwick Island, Delaware, and I'm in Western Maryland, so 2 sometimes can open. A couple of years ago, when I was living in the D.C. area, I heard weather for Little Rock, Arkansas, Kansas City, Missouri, and Galveston, Texas, and proceeded to work stations in all three cities on 52 simplex. 73- Pat KK3F
Harvey Heagy, N5HAU, sent the following information about the American Council of the Blind's Radio Amateur's affiliate (ACBRA).
We would really like new members to join our affiliate. Dues are ten dollars a year, or you can have a lifetime membership for $250.00. Our meeting is usually on the Wednesday afternoon of our convention which next year will be in Rochester N. Y. at the Hyatt Regency hotel with the Radisson being the overflow hotel. It will be held from July 5 through 12.

Membership dues are ten dollars per year. Make checks payable to ACBRA, and mail them, along with the following information to the address at the end of this message.

Name, address, phone number, email address, call sign, license class, do you wish to be added to the ACBRA email reflector, preferred format for the ACB Braille Forum, a notation of whether or not you qualify to receive mailings via free matter for the blind,

Mail this information, along with dues of $10.00 to:

Mike Duke, K5XU,
5127 Parkway Drive,
Jackson, MS 39211

The member information may be sent via email to k5xu@comcast.net.

If sending the information via email, please use ACBRA member as the subject line.

Mike Duke, K5XU, ACBRA Treasurer
---
Interview of the Week
John Farina, W2QCY, joined me for a phone interview earlier this week. He has enjoyed many years in the ham radio hobby and also had experience in assistive technology. Please enjoy the first part of this interview. While the interview airs in its original form in the podcast, I have included an edited transcript below.
Editor's note: This interview took place in the Handiham Program office. Because some work was being done on Pemdy's computer at the same time, there is some extra background noise.
LM: We have John here for an interview with the Handiham Program today. His call sign is W2QCY, and let's start out with what got you interested in amateur radio.

JF: I started as a high school kid like a lot of folks who got into ham radio back in my generation. We didn't have a club in our school, but I had been in CB since middle school. A friend of mine got a general coverage shortwave receiver, and I started listening to hams at his house, like many people did back then. I decided this was the next step up for me. The two of us were actually going to get our licenses. I got the license, and he got the receiver. Some twenty years later, he did go back and get his license and enjoyed the hobby until he became a silent key. At that point, amateur radio study material was available through Hadley School for the Blind. They had Novice and General on reel-to-reel tapes.

LM: I remember those.

JF: Most of us that go back a ways remember those. You did the lesson and sent back the tape along with your written answers typed on a typewriter. I passed the course and got my General while at a transition program between high school and college in Syracuse, New York. That was back in the days when you had to go to the FCC when they were in town. They happened to be in town in July. Otherwise, I would have had to wait until December when they would have been there next. So I got that. My dad had built an HW16 for me as a kit. He had never done anything like that before. He did electrical work, wiring houses and things like that, and he was very skilled in carpentry. I just remember when he opened up the box, he looked at all those pieces and was a bit overwhelmed. But he put it together, and it worked, and I used it for a number of years after that as a CW rig. That was a good time to get my license because I was going into college. I don't think I would have had time to study for my license along with a full load of college credits.

LM: That makes sense.

JF: I believe it was the next summer that a friend convinced me to study for my Advanced, and I took that and passed it. It wasn't until 1990 or so that I got my Extra. Again, a friend of mine was going for his Advanced, and he suggested that I study for my Extra, and he would give me a ride for the test. We both came out with the license we went for, although he maintains that I was a lot more excited about getting my Extra than he was about his Advanced. That was a very different process with the VE team than with the FCC examiner process. It was a lot more private. I was in a one-on-one setting so someone could read me the questions, and I could provide them with the answers while not disturbing other test-takers. The atmosphere was a lot different.

JF: So over the years, I have done HF and VHF, National Traffic System stuff, CW rag-chewing, and a little bit of contesting here and there. This is the second place I have lived where I have had a ham station. I had one when I lived with my parents, and now I live some 25 miles from where they lived. I had to move because I had to live on the bus line so I could work. In my hometown, there weren't any busses. So I got married and moved. My wife is a ham, and she is N2SHC. Hopefully she will get her General here soon. She has been concentrating on other things, such as working with her first seeing-eye dog.

LM: That's a lot of work.

JF: She was just telling someone that the dog is a lot more work than she first thought. They have been home a couple of months now, and they are making a lot of progress. They get out nearly every day to practice. I have had dogs since 1974. This is dog number seven for me. Today, I do some rag-chewing, both on HF and VHF. I seem to do more CW on HF. I am not exactly sure why. I like it, and I guess that is why. I have got into PSK-31 through the Accessible PSK-31 software that has modified the Digipan program with some very effective JAWS scripts. I hope to try the JT-65 software, but I am still trying to figure out how to get my computer and SignaLink to talk to each other with that program. I am still playing with it, but it is getting a little warm in my shack over the last few weeks, making it an unpleasant place to be for extensive testing.

JF: I have been a member of several different radio clubs over the years, including the Saratoga County Amateur Radio Association. I have been an officer in our local emergency communications group that is affiliated with ARES/RACES. I regularly attend those meetings. I have been net control on a variety of public service nets, including a large four-day sporting event last year that had security considerations as well. Amateur radio keeps me busy now that I am pretty much retired from my job.
Stay tuned for the second part of our interview with John next week.
---
Ham Radio in the News
Jack Gerbs, WB8SCT, Appointed General Chairman for Hamvention 2019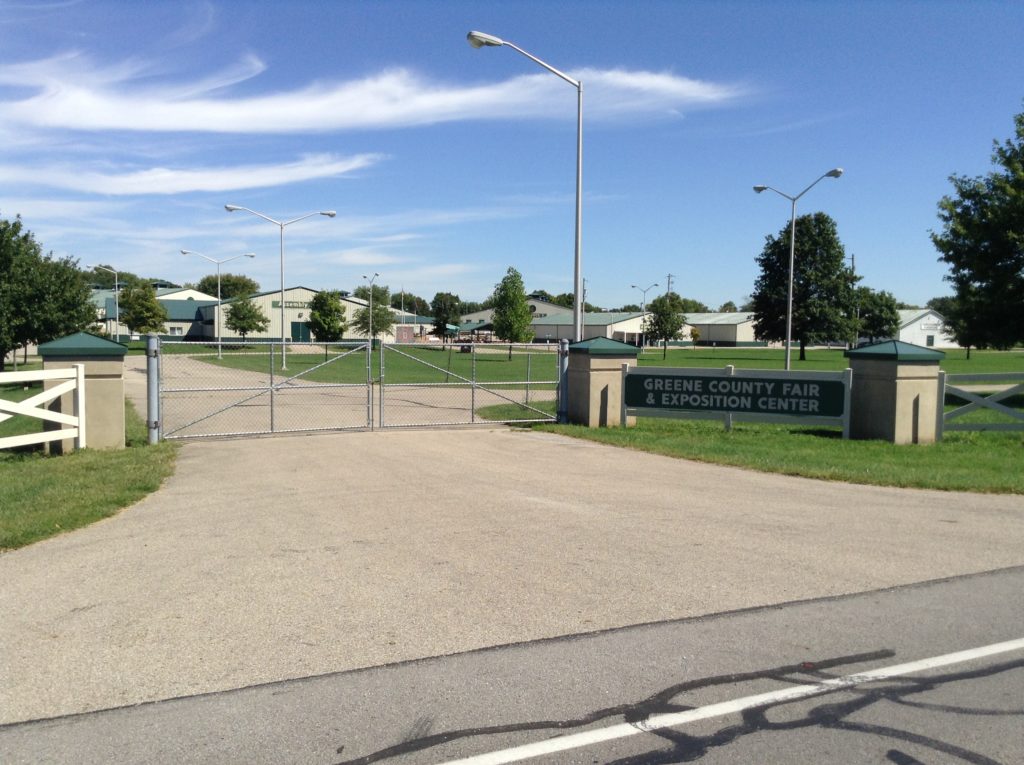 The DARA board of directors has appointed Jack Gerbs, WB8SCT, as the new General Chairman for the 2019 Hamvention. He was the Assistant General Chairman for the last two years, so he is very familiar with the work and with the Green County Fairgrounds and Expo Center in Xenia, Ohio. Most of the committee chairs from 2018 have agreed to stay for 2019. Additionally, it takes some 700 volunteers to make the event a success. You can read more at the following link: http://www.arrl.org/news/jack-gerbs-wb8sct-appointed-general-chairman-for-hamvention-2019
---
Website Update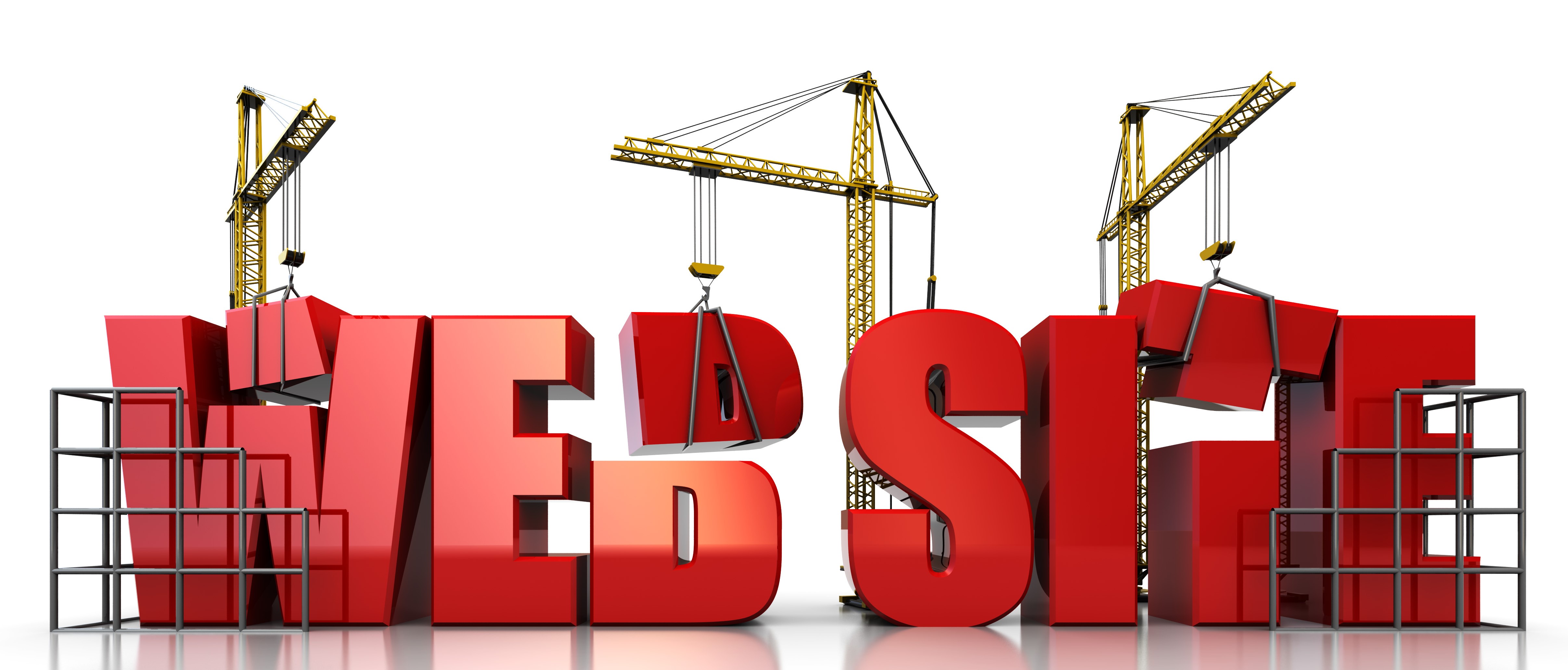 Here are the latest updates on the new Handiham.org website. Don't forget to monitor the site for updates throughout the week. When changes are made, I will post to the website. You can also subscribe to the category specific RSS feeds to keep up on the website activity.
This week, I put the last of the Manuals and Tutorials up in the new website. I will continue working on the Operating Skills section over the next week. Don't forget, the Members links appear only if you are logged in. If you have entered your username and password and those links do not show up, try entering on the Courage Kenny Handiham Program link after you have entered your login credentials. If you are a current member and your credentials are not allowing you to login to the site, please contact Pemdy for assistance at handiham@allina.com or 612-775-2291.
---
Equipment Connection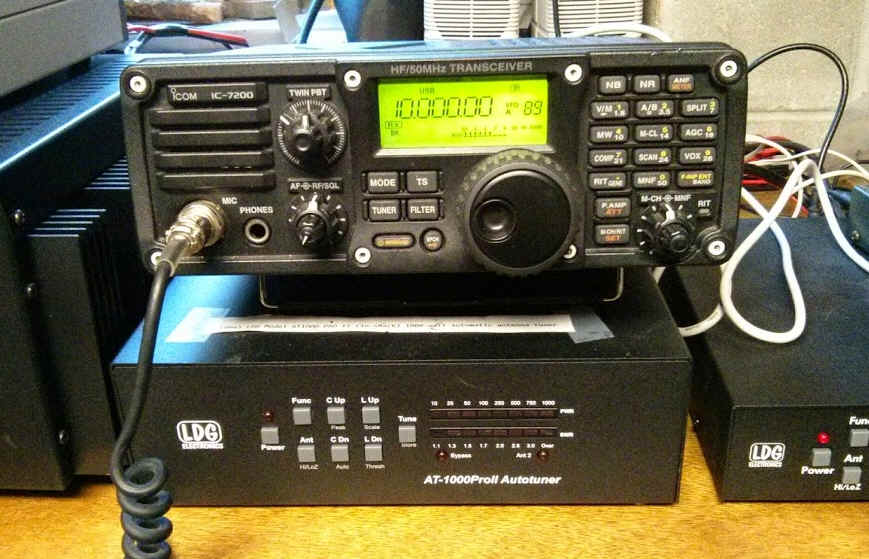 Equipment connections are happening, and the list is open! If you have a request for the Equipment Connection, contact me, leaving your name and phone number. I will call you to discuss your request. Please note that it may take several days for a return call due to all the other things going on in the Handiham Program. If you don't hear back from me after two weeks, you may contact me a second time. Additionally, if you have received any equipment from the Handiham Program during the last 12 months, you will automatically be placed at the bottom of the list so that others can also participate in the Equipment Connection.
Many thanks to the numerous people who have offered equipment for Handiham Members. If you have equipment that you would like to donate to a Handiham Program member, please email Lucinda at Lucinda.Moody@allina.com or call 1-612-775-2290.
---
Help Needed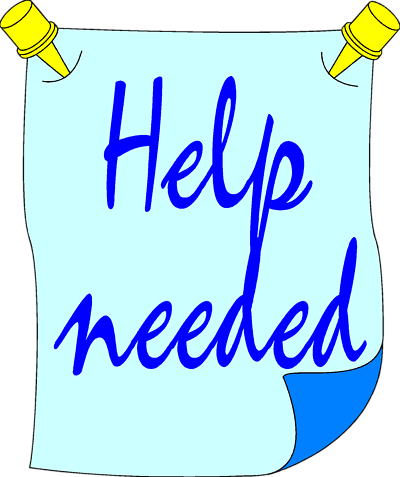 The Handiham Program needs more readers. While we need some regular readers, we also need some with a background in teaching in STEM related fields, especially if you have also worked with students requiring accommodations. This volunteer position requires you to use your own equipment to record, however, we will provide the reading materials. If you or someone you know would like to try reading material for the members only section, please contact me for more information on how to submit a demo recording.
We need help updating our available resources for members. If you are blind and enjoy using your ham radio or assistive technology related devices, your assistance is especially needed. It would be a big help to your fellow Handiham Members if you would record a tutorial or product review. These need to be recorded in Mp3 format, and the Handiham Program reserves the right to edit the recordings as needed before publishing in the Members Only section of the Handiham.org website. Please contact me at Lucinda.Moody@allina.com or 612-775-2290 if you have any questions.
I want to say a big thank you to those who have already made or volunteered to make tutorials for the Members Only portion of the website. We have already had a number of members step up to offer their services, and their help is greatly appreciated! We also have some new readers, so keep watching for website updates as we add more content.
---
Check into our Handiham nets… Everyone is welcome!
How to find the Handiham Net:
The Handiham EchoLink conference is 494492. Connect via your iPhone, Android phone, PC, or on a connected simplex node or repeater system in your area.
The Handiham Net will be on the air daily. If there is no net control station on any scheduled net day, we will have a roundtable on the air get-together.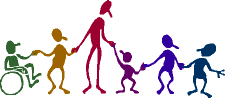 Our daily Echolink net continues to operate for anyone and everyone who wishes to participate at 11:00 hours CDT (Noon Eastern and 09:00 Pacific), as well as Wednesday evenings at 19:00 hours CDT (7 PM). If you calculate GMT, the time difference is that GMT is five hours ahead of Minnesota time during the summer.
Doug, N6NFF, poses a trivia question in the first half of the Wednesday evening session, so check in early if you want to take a guess. The answer to the trivia question is generally given shortly after the half-hour mark. A big THANK YOU to all of our net control stations.
---
Membership
You can pay your Handiham dues and certain other program fees on line. Simply follow the link to our secure payment site, then enter your information and submit the payment.

Handiham annual membership dues are $12.00. The lifetime membership rate is $120.00.
MEMBERSHIP DUES PAYMENT LINK
If you want to donate to the Handiham Program, please use our donation website. The instructions are at the following link:
DONATION LINK
As always, while our other services require that you have a current Handiham Program membership, you do not have to be a member to receive the Handiham World E-Letter.
How to contact us
There are several ways to contact us.
Postal Mail:
Courage Kenny Handiham Program
3915 Golden Valley Road MR 78446
Golden Valley, MN 55422
E-Mail: handiham@allina.com
Preferred telephone: 1-612-775-2291
Toll-Free telephone: 1-866-HANDIHAM (1-866-426-3442)
Note: Mondays through Thursdays between 9:00 AM and 2:00 PM United States Central Time are the best times to contact us.
You may also call Handiham Program Coordinator Lucinda Moody, AB8WF, at: 612-775-2290.
73, and I hope to hear you on the air soon!
For Handiham World, this is Lucinda Moody, AB8WF
The weekly e-letter is a compilation of assistive technology, operating information, and Handiham Program news. It is published on Wednesdays, and is available to everyone free of charge. Please email handiham@allina.com for changes of address, unsubscribes, etc. Include your old email address and your new address.