by wa0tda on Apr.14, 2018, under Uncategorized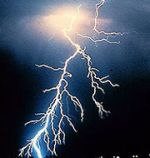 April showers have returned to the USA Upper Midwest, and that means thunderstorm season is here.  Yesterday evening a spring storm pushed through southern and central Minnesota, and lightning accompanied rain, hail, snow, ice, and high winds.  In order to protect the station and computer network from lightning damage, the station was shut down and the antenna disconnected.  The station will return to service on Saturday, 14 April 2018 – but remember that shutdowns will happen throughout the remaining spring, summer, and fall thunderstorm season, depending on conditions.  W0EQO, located in far northern Minnesota, was not affected.
Comments Off

on W0ZSW: Thunderstorm shutdowns begin for the 2018 season
more...