Remotehams.com rig control software: 
W4MQ software will be replaced!
We are considering a switch to this software to operate the Handiham Remote Base HF stations, so if you are a remote base user, please pay attention.  This software offers considerable benefits over our existing software, and it is available free.  There is also no need to depend on Skype for audio.  An Android app is also available, as is a physical control device, both at a reasonable cost.  The entire system is free to use via PC.  A benefit for those who host stations (like us) is that the administration of users is more straightforward and consistent – and much less time consuming.  The Remotehams.com website also has an active user forum that can answer questions, which is a good way to avoid lots of tech support.  We would like to sunset the existing station software in the near future to help make the user experience better and to streamline station management.  Please, if you are a screenreader user and can help, consider trying the RCFORB software from Remotehams.com and letting us know what you think.  Here is a synopsis of my experience so far controlling the WA0TDA IC-7200 via Remotehams: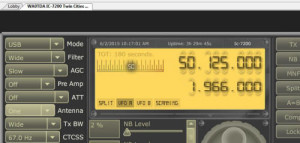 The Remotehams.com RCFORB client is in use at the WA0TDA HF remote base.  We think that this client is screenreader accessible and would like to hear feedback from blind users. So far I have been delighted with this method of controlling remote base HF radios around the world.  The software does speak the frequency readout and control settings for blind users, a feature available in the settings.  The nifty thing is that once you set up your preferences in the settings, it applies across all of the radios available around the world. For example, if I want to ask my IC-7200 what frequency it is on, all I have to do is the keystroke combo ALT-SHIFT-F.  Later that day I decide to listen on a Flex radio in Alabama.  I use the same keystroke to ask the Flex to tell me the frequency.  This is really nice because once I learn the RCFORB software, the commands are pretty much universal across radios, subject to the radio's features.  Remember that the radio does not need to have a special speech chip installed because the voice frequency announcements are done in the RCFORB software, not the radio's hardware. 
The procedure for getting the RCFORB software set up is a bit different than what you are used to with remote base operation.   Your first step is to go to the website Remotehams.com and read about the system, which provides access to many stations around the world as a volunteer effort.  The RCFORB software is free and works on Windows computers.  You can support the project with a donation if you wish.  You should set up a free account.  Uploading a copy of your license is highly recommended if you expect to request transmit privileges on any of the remotes. 
The Remotehams system has several key advantages over our existing W4MQ software:
It appears to be more blind accessible.
It is under current development.
It supports physical hardware devices on the client side, like K3 transceivers and a neat little hardware box into which you can plug a microphone and key, though it can also be operated from a computer or Windows tablet without these extra devices.
There is a great Android app that allows you to control radios from your smartphone.  It's under $10 and works well for me, though I have not tested it with the Android screenreader.
You don't need a third-party audio application like Skype since it has its own built in audio.
Multiple users can listen at the same time without resorting to Echolink.  The RCFORB client allows for a number of listeners with one control op at a time.
From an administration standpoint, the host software for this system is much easier to manage.  If someone wants to use my station, all I need to do is check my list for transmit requests and check the uploaded licenses for verification.  I can then add the user to the list of those who have transmit permission.  Although I did have to open several ports on my router to the host computer, this is not necessary for the actual users of the station, so the client software is very easy to set up.  No fiddling with your router's ports!
Finally, once you set up the RCFORB software there is access to many stations.  You don't have to worry about setting a special IP address for each station as you do with the W4MQ software.  This makes it much easier to use many different stations, a definite advantage as band conditions change from one geographic area to another.
On the hosting side, those of us who set up the stations for others are usually already very busy with our own projects, our jobs and families, and everything else that needs doing around the house.  Maintenance of W0ZSW and W0EQO as it is now with the existing software is really, really time-consuming.  There is a lot that needs to be done by the system administrators.  Nothing is automated and each host computer needs separate maintenance, including for simple things like requested password changes.  Software crashes are getting more common.  It is time for a reliable, updated rig control system.  That is why we need to get your feedback!
Please consider testing the Remotehams.com system and letting me know what you think about it.